Would you like to join our Volunteer Database and join our volunteer community?
Complete our Volunteer Form and our Volunteer Information Sheet provides some ideas of how you could help and what to expect.
If we don't get back to you straight away, please contact secretary.quarantineisland@gmail.com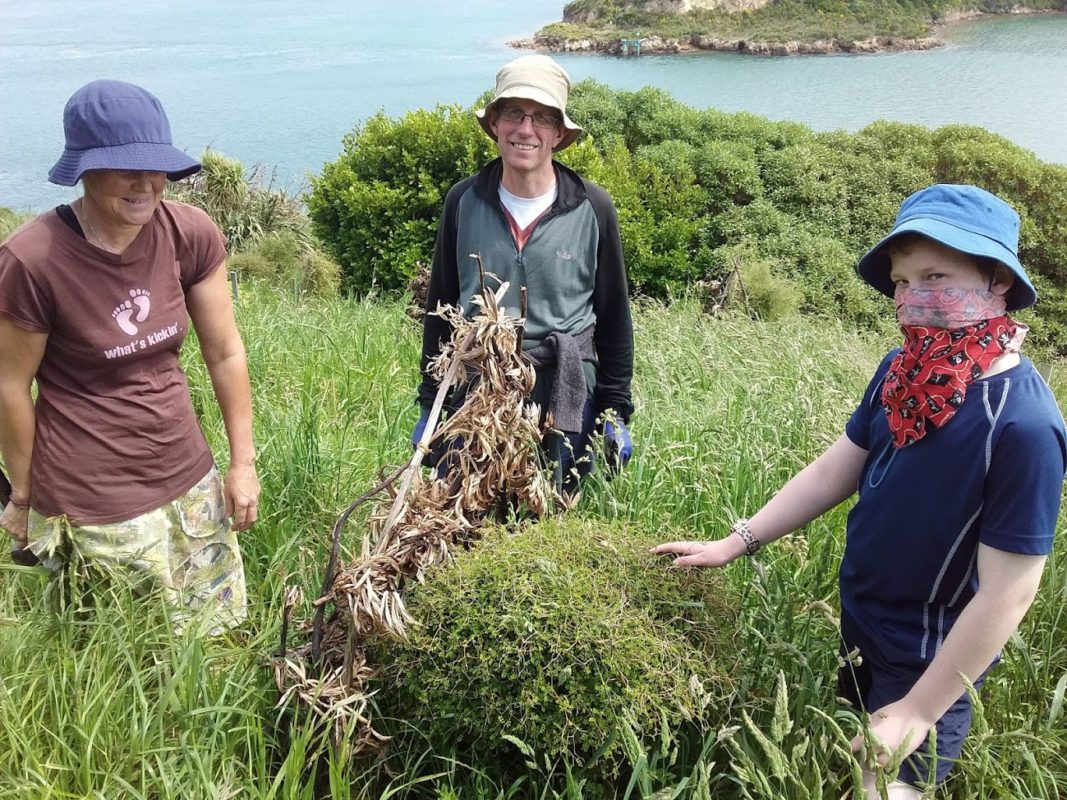 Over the years, thousands of people have contributed their time, money and resources to looking after and enhancing the Island. We invite you to do this too! Some of the key projects are listed below. Please let us know if you have other expertise or ideas.
Everyone can help! Some 'jobs' require very little strength, fitness or time; others are perfect for those who love a challenge!
Some volunteers come for the day and help for a few hours, or all day. Often on Welcome Days or mahi days e.g. around bush restoration. Others stay for a night or longer.
Volunteering is a great way to experience something different and give back at the same time. You'll support environmentalists, scientists, as well as people from the local community, and get the chance to develop important skills. Experience nature, while being part of a team that are bonded by a common goal: to protect and enhance the Island. You'll have the experience of monitoring and caring for stunning habitats, and the species that live here. It's a safe, enjoyable way to learn more about conservation and to protect one of the most significant places in Otago.
We can sometimes subsidise boat fares for volunteers, and offer complimentary accommodation to those making significant contributions, for example WWOOFers.
Read an account of volunteering and staying on the island from a recent longer term volunteer, Carolyn Stallard, a young musician and teacher from New York. We loved having Carolyn on the Island!
---
Projects
Bush Restoration
The key project on the Island that started way back in 1958 links our two strongest beliefs… 1) that this tiny windswept rock with no natural water source can be restored to a self-sustaining balance of bush and open grass, rich with native birds and wildlife and 2) that people too are restored by getting their hands in the dirt, learning new skills and working companionably together.
We are gradually extending bush on the scarp areas around the Island, following well-tested procedures for all planting and maintenance work. This ensures plants survive and prosper in this often harsh environment. Volunteers, with the support of community members who know how to help the native seedlings survive, do the planting and maintenance.
You can come over to plant our eco-sourced trees in Autumn or Winter. You may like to do this as part of off-setting carbon emissions. Thanks to the DOC Community Fund in 2020, Sargood Bequest in 2019, Otago Polytechnic and the Speights Fund in 2018, and individual donors for significant contributions to this fund. Thanks also to the DCC Biodiversity Fund in 2018-19, which provided funding for electric fencing, tools and subsidising boat transport for people helping with planting and releasing seedlings.
---
Weed Busting
Controlling weeds such as ivy, Darwin's Barberry, elder, hawthorn, broom, gorse (including by shading out), Northern Hoheria, wilding pines, and garden or exotic varieties of native plants from the bush areas is another important job we like to stay on top of. We are happy to train you to identify problem weeds.
In 2016-2018, we received grants from Weedbusters, which enabled us to subsidise boat transport for volunteers helping significantly with this project. We also had grants from the DCC Biodiversity Fund to specifically target weeds in, and restore, two coastal coves, one on the south, the other north side of the Island; and to subsidise boat fares for volunteers. The Dunedin Branch of Forest and Bird and DOC's War on Weeds volunteers also help us at times.
Biodiversity monitoring and predator control
In Winter 2016 we began a predator control programme (rats and mice). Rats and mice are our only mammalian pests on the Island and we expect to see increases in biodiversity as we reduce their numbers.
Thanks to funding from the DCC's Biodiversity Fund, Peninsula Community Board and Dunedin Amenities Society in October 2017, and the Halo Project (for DOC 200 traps). The Ministry of Business, Innovation and Employment, as part of the Curious Minds initiative through Otago Musem, funded three different projects 2016-19 to involve the wider community in predator and biodiversity monitoring, linked with increased predator control.
We are part of Predator Free-Dunedin.
---
Lodge and Keeper's Cottage Maintenance
There is ongoing work to maintain and improve these buildings to make them more energy-efficient and comfortable while retaining their character. This is part of our long term Sustainability Plan for the island.
---
Development of Educational Materials
Sharing the island's stories is important to us. We have some resources already, especially for school groups. However, if you have skills and time to help develop particular resources, please let us know.
Thanks to the Ngai Tahu Fund in 2018 for helping us improve our interpretation by incorporating Kai Tahu perspectives, and to Kuini Scott for leading this project.
Easy but important odd jobs
Helping in the shadehouse, collecting pinecones, picking up rubbish that washes up on the Island's beaches, doing odd jobs, or looking after other visitors.
---
Current Needs
1. Volunteer Coordinator/Casual Educators
We currently have funds for part-time Casual Educators and a part-time Volunteer Coordinator to help us with our biodiversity project volunteer programme. If you are interested, or know someone interested in these roles, please get in touch! You can email secretary.quarantineisland@gmail.com or quarantineisland@gmail.com.
2. Guides and leaders
We love to develop and support people to become guides for visitors and lead an activity, eg releasing or weed control, and sharing the Island's stories. This could mean helping with a small group, or on our Welcome Days.
3. People with Rope Skills and Equipment
Weed control work in some of the steep areas requires people with rope skills and equipment. Plenty of weeds that are more accessible for people who have moderate fitness and good health & safety awareness. Weed control involves working methodically to locate plants, cut and swab the stump with weedkiller.