St Martin Lodge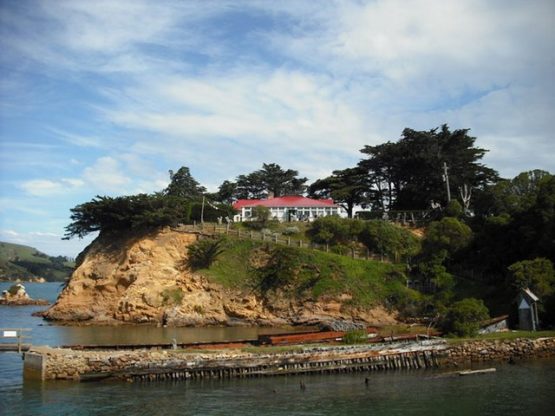 The Lodge is owned and managed by the QIKT Community. Our aim is to provide low-cost, simple accommodation for school camps, retreats and family get togethers, in accordance with our values and vision. It's usually possible to stay over after the monthly Community Welcome Day, to enjoy even more time on the Island!
You can request to stay over in the Lodge. It can sleep up to 30 people (at a squeeze) in a combination of bunk and small bedrooms. Small groups may need to share.
The Calender of current bookings is here. And here is information on how to charter a boat to come to the island.
In St Martin Lodge there is a lounge (woodburner), kitchen (2 stoves, microwave, cooking utensils, jug, toaster, pots, pans, plates and cutlery), dining room with heat pump, bathroom (shower for occasional use) and composting toilets. See a gallery of photos at the bottom.
The suggested donation for the Lodge is $20 per adult, $15 for tertiary students and $12 for school-aged children per night. There is an additional Family Concession (on application) of $50 (2 adults, 2 school-aged children). Boat charter, if required, is in addition to this. Small groups may be asked to combine.

Pay online after your stay when you know your exact numbers, putting your name, 'Lodge' and the date in the reference code, or request an invoice.

Our bank account is: Quarantine Island Kamau Taurua Community 38 90170478888 00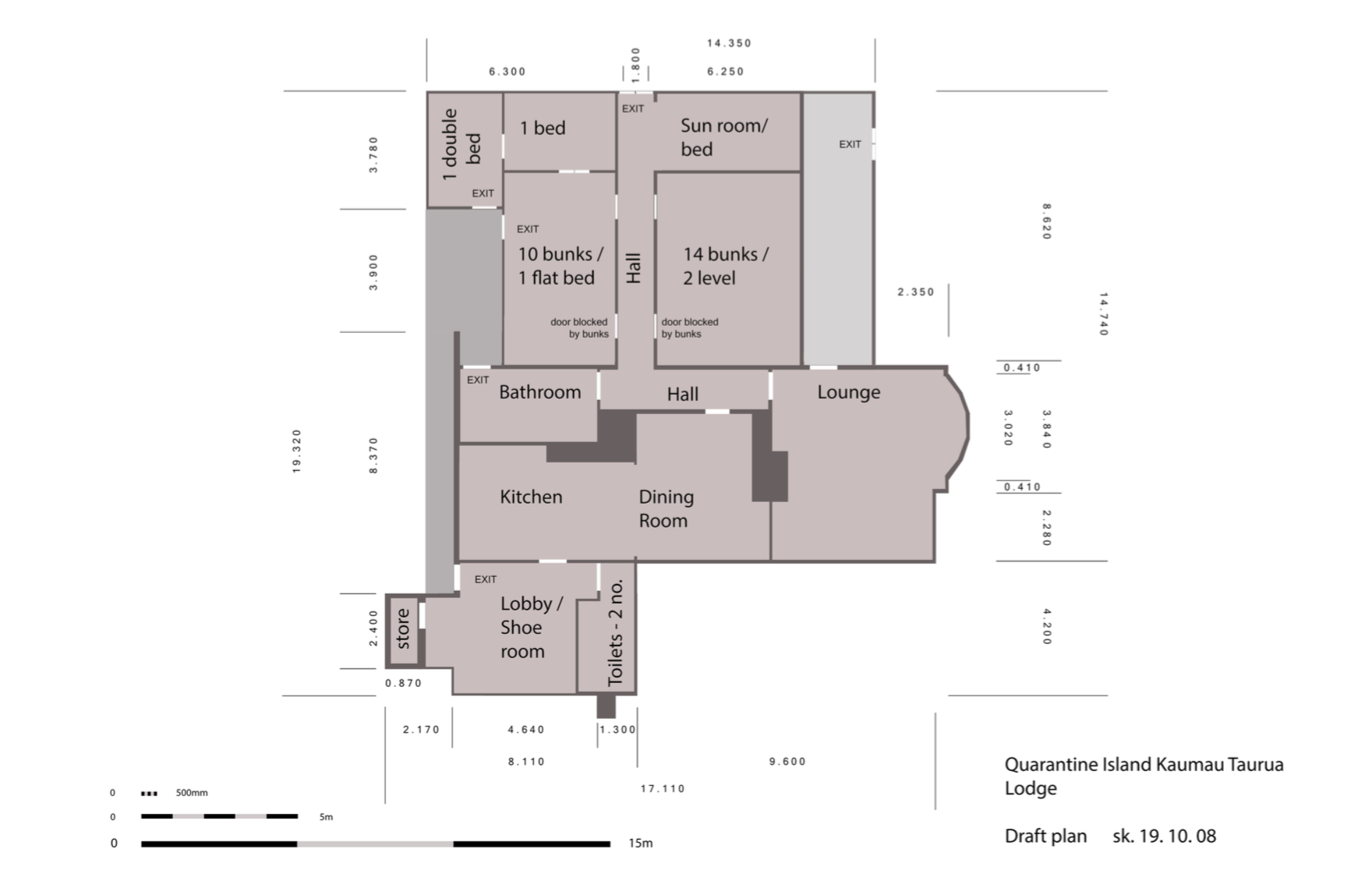 Download a floorplan here.
Bedrooms: Two large bunk rooms sleep 14 and 11, one single room (sunroom), one room with two singles (Captain's cabin), one double room/bed (see photos at bottom of page).
Also a room for storage (Mud room), which has a great view of shags nesting at the right time of year!
If the Lodge isn't quite big enough for your group, there is a small, flat area for camping near the buildings. No camping elsewhere on the Island.
You will need to bring your own:
– sleeping bag
– a sheet to cover your DOC style mattress
– pillow
– tea towels
– hand towels/ towels
– rubbish bags
– food
Hot water bottles, slippers or thick socks will help keep you warm inside the Lodge. Gumboots or boots will keep your feet dry outside.
Put all your gear in a waterproof backpack or bag so it doesn't get wet and dirty on the boat, or on our jetty when you arrive.
We supply toilet paper, as this needs to be biodegradable for our composting toilet system. We also supply dishwashing liquid that also needs to be to a high environmental standard. However, if you are a large group of staying for more than a couple of nights we welcome you to bring enough to meet the needs of your group.
There is an expectation that visitors will leave the lodge clean, and we welcome help with island activities.
We will try to maintain your privacy in the Lodge during your stay. Small groups may be asked if it is suitable to combine with another small group – we will talk to you about this in advance.
However, day visitors may need to access the Lodge toilets though a separate door at the back (as they are the only toilets on the island currently).
At the end of your stay please leave the accommodation as clean and tidy as you found it.
Water
Our tank water is UV treated and safe to drink.
The Island is a great place to be mindful of resources we often take for granted.
Please conserve water as all we have comes from the rain and, believe it or not, it doesn't rain in Dunedin all that much! This conservation means we ask you not to shower if you are only staying for 1-2 days. If you have to shower, please keep it short (a minute).
All efforts to conserve water are valuable! Refill the kettle or collect water in a jug for later use while waiting for the hot water to come through, so water is not wasted.
Suitable water can be used to nourish the plants growing in containers around the Lodge, particularly the new plants in front of the sun room.
Firewood
There is a limited supply of firewood, which we make available for your careful use. Again this comes from the island and is a finite resource.
Waste
We currently are not able to compost food waste. Please do not feed the chickens – but ask the Keeper if you think you have leftovers that may be suitable.
We encourage you to sort your other waste for recycling (glass, plastic, soft plastic). Please take all your recycling and rubbish off the island when you leave.
Toilets
These are composting and can only cope with pee, poo and toilet paper. There is a separate rubbish bin for sanitary products. Always close the lid after use so warm air can circulate and help with the composting process. This prevents them from getting smelly too. Useful bacteria break down the waste and it's critical that no harsh chemical products are used to clean the toilets. These will kill the beneficial bugs. Usually, the Keeper will clean the toilet, wiping around the seat with diluted Dettol and disposing of the paper or cloth used for this in the bin.
If you find anything broken or not working or if you can't find something you need, please talk to the Keeper.
Views Inside the Lodge (right click to view)