You are welcome to visit in your own boat and moor temporarily at the jetty. However, other boats may need to tie up too, including the ferry or charter boat. Check with the Keeper. Please do not tie up on the Keeper's boat line or to the wrecks.
Charter Boats
On welcome days and events organised by the QIKT Community, we organise the boat transfers and collect the money for the boat, so please contact us to book directly with us. We can sometimes subsidise transport, related to particular grants, for example for weed control work, biodiversity monitoring, or for those with financial hardship.
The usual departure point is from the jetty at Back Beach, Port Chalmers (see map below), but pickups are also possible from Portobello Pontoon. A one-way transfer from either direction takes about 10 minutes, and charter boat operators can do multiple trips if needed.
Below are details about different charter boat options for transfers to the island if you are organising for a group:
---
East Coast Charters: The Vivienne J
The usual cost is $10 per transfer ($20pp return) for adults and children over 12 (secondary school-age) and $7.50 per transfer ($15pp return) for primary school-age children. A minimum charge of $50 per transfer applies. The Vivienne J can take 30 people at a time. Contact John on 027 681 4778 or viv.johnmcl@gmail.com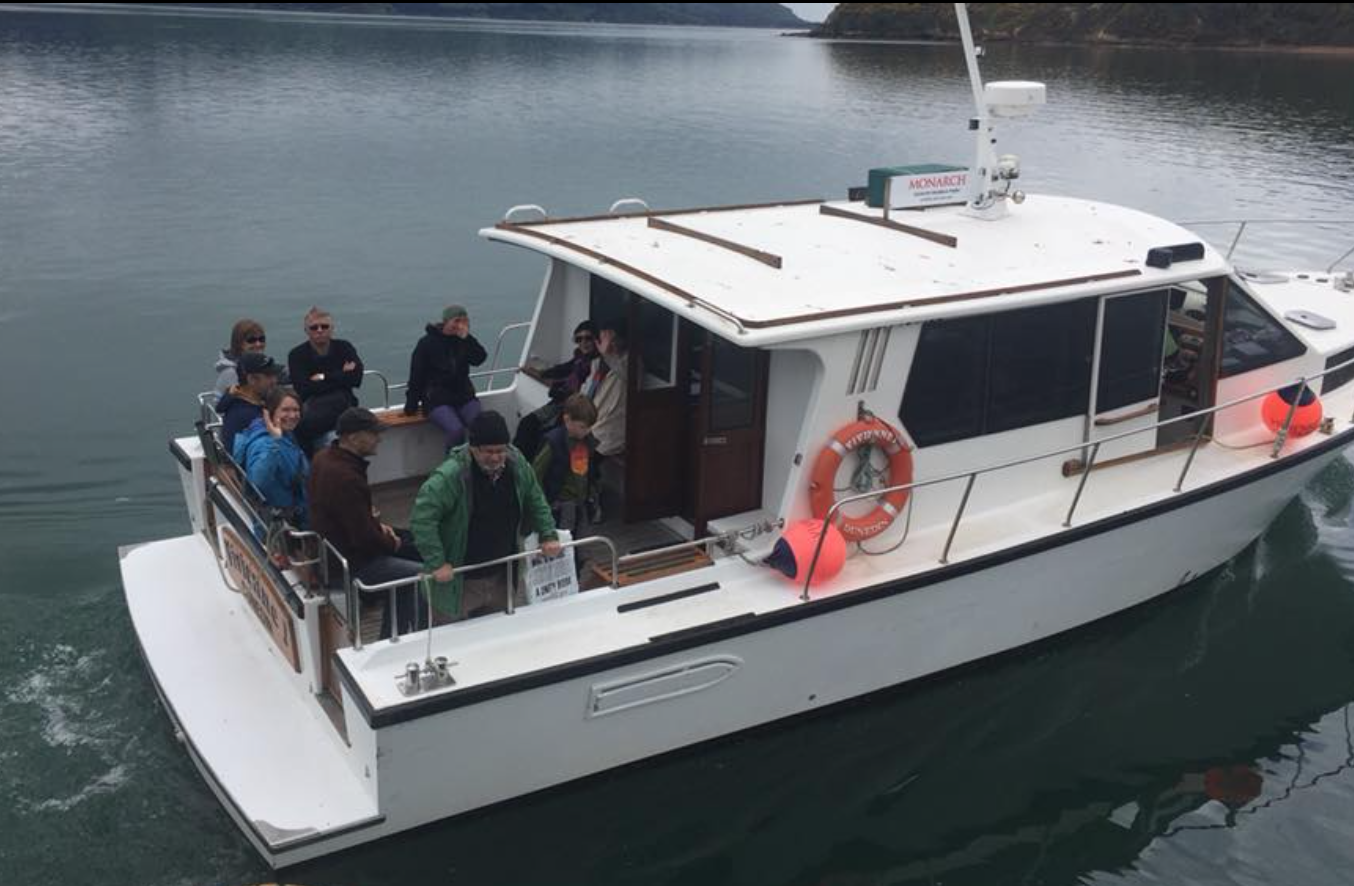 Port To Port Cruises and Wildlife Tours
Port To Port can collect and return passengers to various locations around the Harbour including Portobello, Port Chalmers and Careys Bay. Surveyed for 20 people, and can conduct multiple transfers for larger groups. Minimum charges may apply.
Prices:
The group cost is $10.00 for adults ($20 pp return) and $7.50 per ($15 pp return) for primary school-age children, when booking a return trip with 15 people or more.
See website for pricing for smaller groups or individuals.
No luggage charge applies to groups larger than 15 people, but a small charge may apply for luggage when travelling individually.
Port To Port runs a year round scheduled timetable as well as on demand crossings and wildlife and school holiday cruises. Full commentary provided.
Contact: 020 416 24 250 or email info@porttoport.co.nz. For further information check here.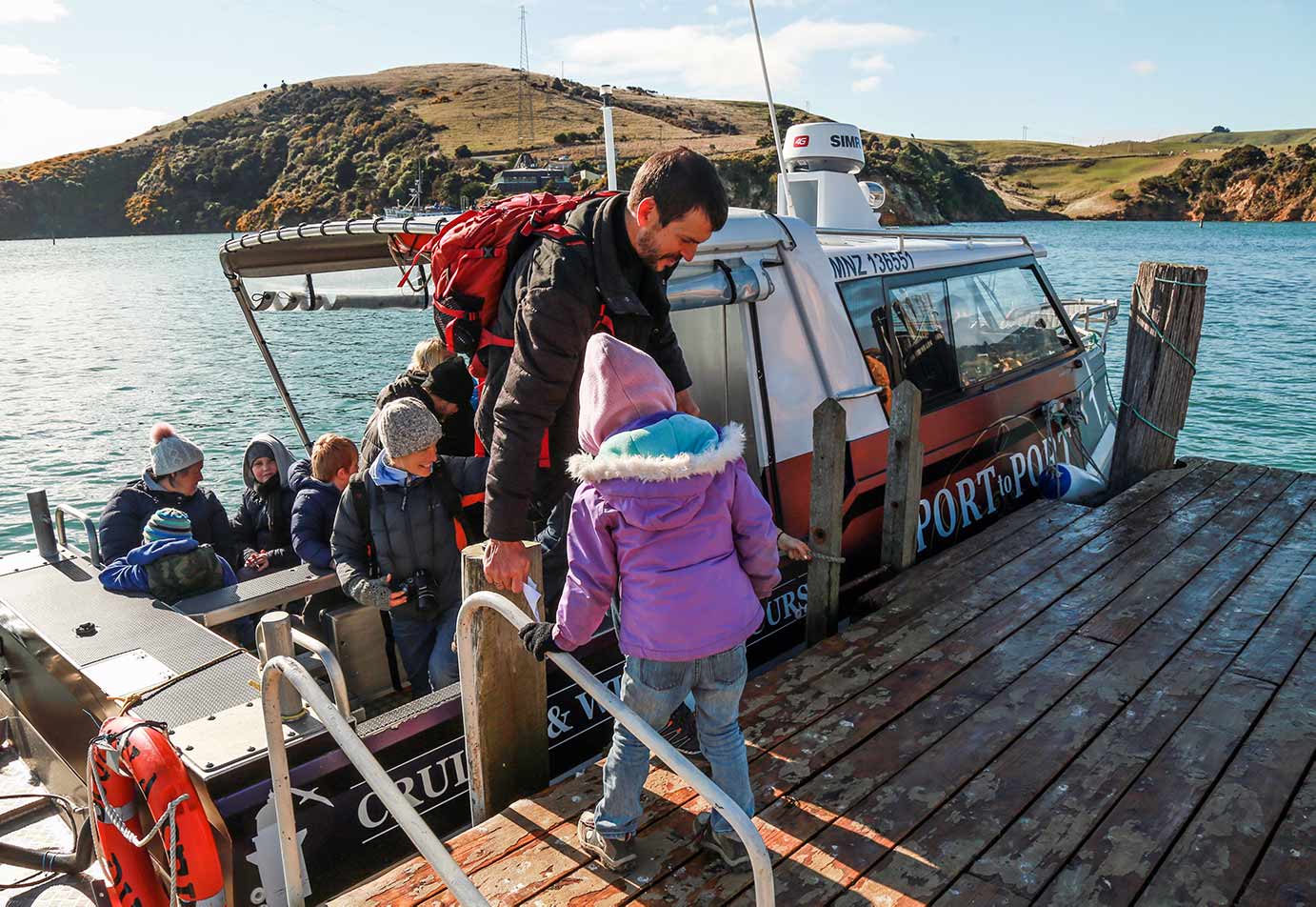 Natures Wonders
This service operates a catamaran, the Albatross Express, which is another option for large groups (26 – 50 ppl). Usual departure point is the Portobello Pontoon or fisherman's wharf at Careys Bay.
Contact 03-478 1154 or info@natureswonders.co.nz
Wildlife Cruise to Taiaroa Heads
Both East Coast Charters and Port To Port Cruises and Wildlife Tours offer additional tours to the Heads. Contact them directly for further information.
---
Pickup Point One – Back Beach
Via Port Chalmers, Back Beach by the Port Chalmers Yacht Club. Please use the single parks on the road outside of the Back Beach Yacht Club carpark if coming for the day or overnight.
---
Pickup point Two – Near Portobello
This alternative pickup is at the floating jetty. Park there or by the hall.