Following its use as a quarantine station the island was leased to different people. The most notable was Bob Miller, who tried exotic farming (e.g. angora rabbits) and early tourism ventures.
The Ships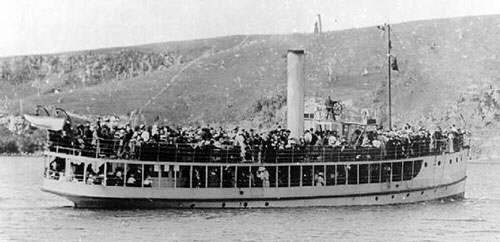 The Waikana (above) loaded with passengers. She took excursions to the island and other places and was certified for 800, but often exceeded this! The design of the Waikana (35 m) and her sister  ship the Waireka was so successful a 'big sister', the Earnslaw (50 m), was also built.
The Oreti (former Baden Powell, New South Wales 1902) carried timber from Stewart Island and Port Craig to Dunedin until being brought to the island for dismantling in 1932. Her timbers of  Australian jarrah can be seen in various part of the Island.
The remains of the Waikana (1909) and the Oreti (1902) are still visible alongside the causeway
Byrd's Dogs
Bob Miller brought thousands of visitors to see Commander Byrd's Antarctic dogs in late 1928 (4000 on one day!) on the Waikana and the Waireka.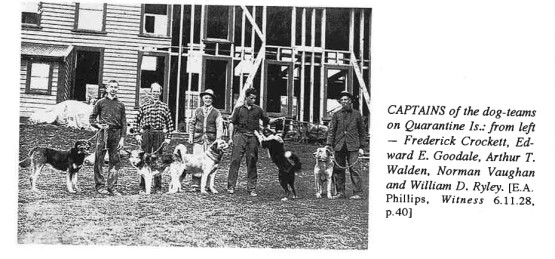 The captains of the dog teams (above) with dogs in front of what had been the single women's quarters of the Quarantine Station. This building had been closed four years before and was already partly dismantled. Ninety dogs were rested (not quarantined) on the Island on the way to Antarctica. They and their handlers stayed for a month.
Extending the Lodge
Extending the Lodge with parts of the 'Modern Joinery' exhibit from the 'NZ and South Seas Exhibition 1925-1926'. Much of the exterior of the current Lodge comes from this material, particularly stained glass. Bob Miller also bought the 'Fun Factory' and 'Fiji Exhibition' and 'Scenic Railway'.  No visible signs except some rails and railroad spikes remain of these.

Scans of postcards from the exhibition. Showing the Fun factory and Scenic Railway.

View of the NZ and South Seas Exhibition 1925. The Scenic Railway, and Fun House are on the right. Sir George Grey Special Collections, Auckland Libraries, AWNS-19251126-43-1
Dances and a Dance Hall
Bob Miller removed the middle floor of the Married Quarters and the cubicles to make one open hall (as it is today). Music was provided by a gramophone or piano.
1943 to 1957
The Fentons held the lease and unprofitably farmed sheep, cattle and poultry.