Soldiers in the First World War (WW1) 1915-1919 (WW1 was 1914-1918)
The quarantine station was converted into a specialised military hospital in WW1. Soldiers recruited in NZ, and some NZ soldiers returned from overseas, were treated for VD, mainly gonorrhoea. The remains of some of the new buildings built for the hospital can still be seen (now converted into other uses, – cottage, woolshed). The military took over the Island completely for a short time 1918-1919 at the end of WW1.
Recently (2015) a memorial to the five soldiers who were shot at dawn in Europe in the first world war was erected on the island. Only one ship was quarantined during this period (1916), the Willochra which was returning from Egypt, when three soldiers were diagnosed with smallpox. This period of history has been researched by Prof. Barbara Brookes (Otago) and this work forms one Chapter in a new book on Quarantine 'Quarantine: Local and Global Histories'. There is a self guided walk booklet available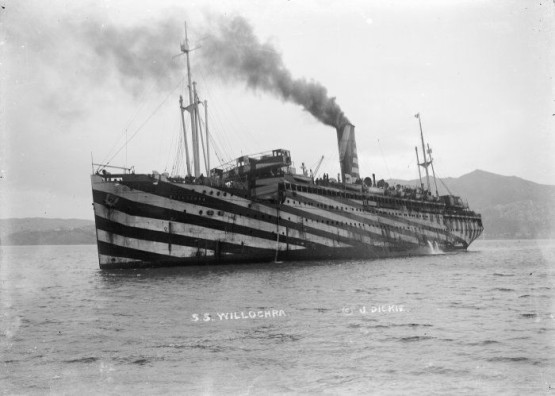 The Willochra carried troops to Egypt and carried sick soldiers back to NZ. Here it is shown in camouflage paint.