On our Welcome Day makes it easier for you to visit the island if you don't have your own boat transport. Usually the last Saturday of the month.
Our next Welcome Day is Saturday 30 September 2023
Register for our next Welcome Day
What we do on our Welcome Days
On the day there is always time for exploring, relaxing, personal time wandering the island or interesting conversations.
If what you need to do most is to rest, to take a breath and connect with nature, that is what we want you to do!
Depending on the interests of the group, we often have very knowledgeable Community members on hand to offer guided tours including tales of the quarantine station, the construction and restoration of the buildings, the ecological and history of the island.
We also undertake a project or two on the day and if you would like to be involved we welcome your help. There is something for everyone, to suit their age, fitness, and interests. If you have specific skills or expertise you are happy to share, please let us know. Find out more about volunteering here.
Organised transport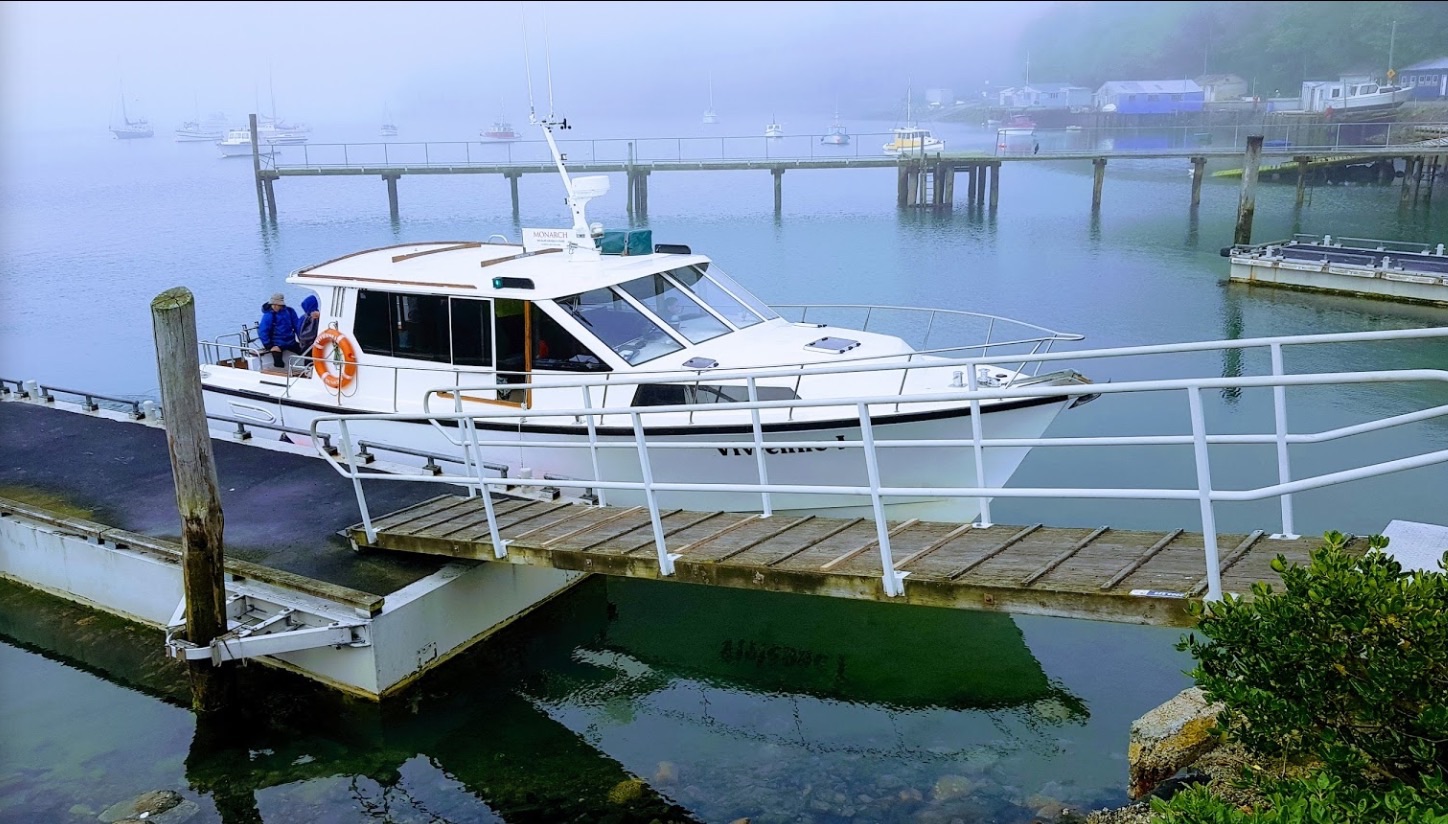 We charter a boat from Back Beach in Port Chalmers in the morning (usually at 9.30am or 10.00am), and return about 3.30 pm. A pick up on the Portobello side is usually possible by prior arrangement – you can indicate if you'd like a Portobello pickup on our registration form.
Parking. Please use the single parks on the road outside of the Back Beach Yacht Club carpark if coming for the day or overnight.
The charter boat cost is $20 return for an adult and for children over 12 years old (secondary school-age). For primary-school age children it is $15 return. We collect this on behalf of the boat operator on the day.
Dunedin buses can be taken to and from Port Chalmers. Allow about 10 minutes to walk from the township of Port Chalmers to Back Beach. Alternatively, we may be able to help organise ride-sharing – let us know on the registration form if you need, or can offer, a ride.
Map-Back Beach, Port Chalmers
What to bring
We usually go whatever the weather (unless there are very strong winds), so wear gear appropriate for the forecast.
Comfortable clothes, sturdy footwear, a packed lunch and water bottle, and sunscreen are all you really need!
We have kitchen and toilet facilities on the island.
KOHA
A $5 additional donation to Quarantine Island/Kamau Taurua is very welcome, if you are able to do so. Our charity runs the facilities on the Island and the ecological restoration work in the Reserve. Every contribution is greatly appreciated.
Staying on overnight
Visitors are usually able to stay overnight in the lodge, returning Sunday afternoon. The night sky on top of the Island is awe-inspiring! If you would like to stay overnight please visit this page.
Whether it's your first time on the island, or you are coming back again – we look forward to seeing you.
Register for our next Welcome Day