"The best way to find yourself is to lose yourself in the service of others."
~ Mahatma Gandhi
Over the years, thousands of people have contributed their time, money and resources to looking after and enhancing the Island. We invite you to do this too! Some of the key projects are listed below. Please let us know if you have other expertise or ideas.
1958- ongoing Restoration of the native bush
The key project on the Island links our two strongest beliefs: that this tiny windswept rock with no natural water source can be restored to a self sustaining balance of bush and open grass, rich with native birds and wildlife; and that people too are restored by getting their hands in the dirt, learning new skills and working companionably together.
We are gradually extending bush on the scarp areas round the Island, following well-tested procedures for all planting and maintenance work. This ensures plants survive and prosper in this often harsh environment. Volunteers, with the support of community members who know how to help the native seedlings survive, do all the planting and maintenance. You can be a part of this project too!
We also invite you to contribute to our Tree Fund, which allows the Community to purchase eco-sourced seedlings, or to subsidise boat transport to the island for young people volunteering, if this cost is a barrier. Our bank account details are on our website. If you'd like to contribute to this, please put 'tree fund' in the reference code and your name and email address if you'd like a receipt. You can also come over to plant our eco-sourced trees yourself in Autumn or Winter. You may like to do this as part of off-setting carbon emissions from air travel. Thanks to Sargood Bequest in 2019, Otago Polytechnic and the Speights Fund in 2018, and Adrienne Dearnley in 2016 for significant contributions to this fund. Thanks also to the DCC Biodiversity Fund in 2018, which provided funding for electric fencing, tools and subsidising boat transport for people helping with planting and releasing seedlings.
Removing weeds – ongoing. Controlling weeds such as ivy, Darwin's Barberry, elder, hawthorn, broom, gorse (including by shading out), Northern Hoheria, wilding pines, and garden or exotic varieties of native plants from the bush areas, is another important job we need to keep on top of. Talk to the Keeper about this, and please let us know if you have rope/climbing skills or your Growsafe Certificate! In 2016, 2017 and 2018, we received grants from Weedbusters, which enabled us to subsidise boat transport for volunteers helping significantly with this project. We also had a grant from the DCC Biodiversity Fund to specifically target weeds in, and restore, two coastal coves, one on the south, the other north side of the Island. The Dunedin Branch of Forest and Bird and DOC's War on Weeds volunteers also help us.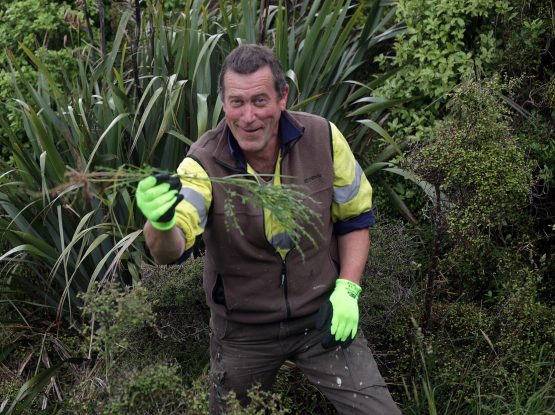 2016 – ongoing Biodiversity Monitoring and predator control
In Winter 2016 we began a
predator control programme
(rats and mice), thanks to funding from the DCC's Biodiversity Fund, Peninsula Community Board and Dunedin Amenities Society. Rats and mice are our only animal pests on the Island and we expect to see increases in biodiversity as we reduce their numbers. In October 2017, the Halo Project also gave us 5 DOC 200 traps. The Ministry of Business, Innovation and Employment, as part of the Curious Minds initiative through Otago Musem, has supplied funding since 2016 to involve the wider community in
predator
monitoring and control. We are delighted to have funding from the
Otago Participatory Science Fund
to help cover costs associated with the biodiversity monitoring, to enable lots of people to participate, and to purchase resources.
Talk to our Keeper
about getting involved!
Jetty repairs -September 2018
Port Otago improved the structural condition of the jetty, covering the costs of all material and labour. We are hugely grateful for their help with this otherwise daunting job!
Improving the Lodge and Keeper's Cottage – ongoing
There is ongoing work to maintain and improve these buildings, and make them more energy efficient and comfortable, while retaining their character! This is part of the long term Sustainability Plan (eventual link to this) for the island. Over summer 2018-19, exterior walls of both the Lodge and Cottage need to be prepared and painted. This in turn, requires scaffolding to be erected and moved. Volunteers welcome!
2016- ongoing Development of new educational and interpretive material – web, print and video
Sharing the island's stories is important to us. We have some resources already, especially for school groups. However, if you have skills and time to help develop particular resources, please let us know. Thanks to the
Ngai Tahu Fund
in 2018 for helping us improve our interpretation by incorporating Kai Tahu perspectives, and to Kuini Scott for leading this project.
Communications – ongoing
Updating the website, compiling the email newsletter and articles for other publications, and helping guide groups on the Island. We welcome offers of help with this.
Late 2018-early 2019 Final phase in restoring the Married Quarters (1873)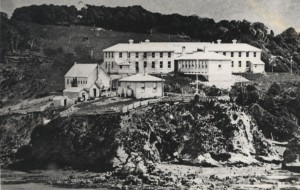 There has been a lot of work to save the building (see
past projects
), and it is now a usable space! The main finishing off work is to repaint the exterior in March-April 2019 (thanks again to the
Alexander McMillan Trust and Otago Community Trust
for funding), building a landing/access at the west door, and developing interpretation, not just for this building, but other aspects of the island.