The Otago Harbour (Wai Ōtākou) is a site of singular importance to the Kai Tahu, Kati Mamoe, and Waitaha people of this district. It has been a source of nourishment, a major highway, a sheltering location for human settlement, a burial place and a symbol carrying the ancestral, spiritual and religious traditions of all the generations prior to European settlement.

Tahu Potiki, Te Rūnanga o Ōtākou, submission regarding 'Project next Generation' on the harbour 2011
Maori Legend – Taniwha Creation of Otago Harbour
Listen to Tahu Potiki recount How Otago Harbour was formed.
"Regarding their legends, the Maori people of Otakou used to speak about taniwhas and fabulous monsters which performed extraordinary deeds. Hoani Karetai, the paramount chief of Otakou, used to speak about a taniwha which was the guardian of the spirit of a famous Kati Mamoe chief. This taniwha lost its master and set out in search of him. From Silverstream near the base of Whare Flat, it journeyed as far as the present Mosgiel. Then it took its course down the Taieri River and wriggling, caused all the sharp bends and twists in the river. The same taniwha scooped out the Otago Harbour. The monster now lies solidified in the Saddle Hill. The humps of the hill are named Pukemakamaka and Turimakamaka".

The Maoris of the South Island, TA Pybus, Reed, 1954
Early Maori Visits
Maori, the tangata whenua, called it 'Kamautaurua'.  Named Quarantine Island/Kamau Taurua as part of the Ngai Tahu Settlement .
The Island was significant as 'mahika kai' a gathering place for food and resources, as evidenced by several midden on the Island, which contain shells and fishbone.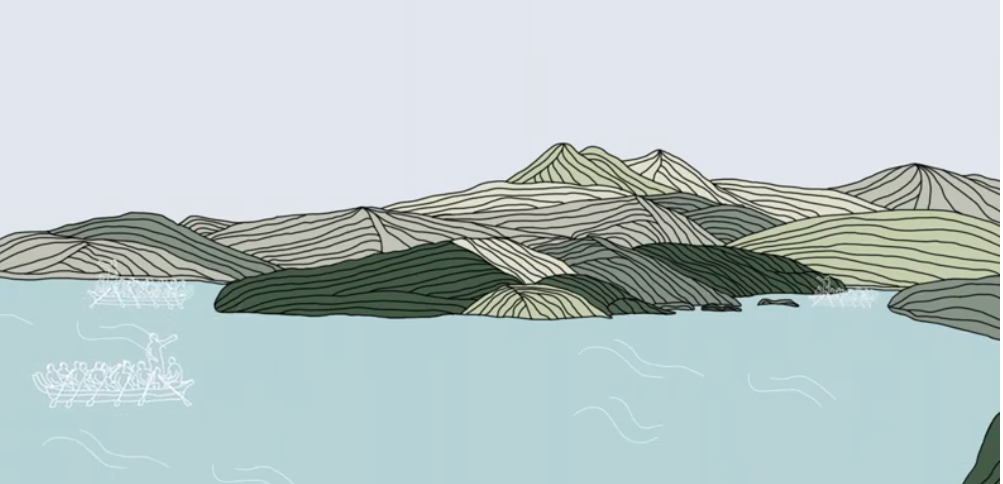 Thanks to Otago Polytech Communication Design students, Ella Cameron, Riley Coughlin, Cameron Tillotson, Laura Wellman and Silas Kemp in 2020 for making this animation of QIKTC member, Kuini Scott, welcoming you to the Island, and talking about early Maori journeying in the Harbour.
Maori fishing in Otago Harbour in the 1860's (Te Ara)
Further information about Otago Harbour can be obtained from Ngai Tahu and information on the Ngai Tahu claim (final 1996) and sale of Quarantine Island / Kamau Taurua as part of the Otago Deed 1844.
Notes about a recent stay by rangatahi
More information about Otago Harbour from Megan Potiki