Press release from the Quarantine Island Kamau Taurua Community (Incorporated) 13/04/2015
Preparations are underway for a simple dedication ceremony on Quarantine Island to be held the day after ANZAC Day (on 26th April). The Quarantine Island Kamau Taurua Community, in support of elder Lyndall Hancock, have decided to commemorate five New Zealand soldiers executed following court-martial, two of them from Canterbury and three from Otago regiments.
The memorial, which is planned to be erected on the old WW1 parade ground on the island, will also acknowledge the burden of those soldiers who were their executioners, some of them being men from their own units. In WW1, 28 NZ soldiers in Northern France and Southern Belgium were court-martialled and sentenced to death; almost all for desertion in various forms.
Some of them were frequently in trouble, some were suffering from "shell shock", some were not fully recovered from injuries and some were victims of indifference or malice by their superior officers. Few were fairly represented at their courts-martial.
Of these 28 men, five were shot: Frank Hughes, John Sweeney, Jack Braithwaite, John King and Victor Spencer. "The actions of the soldiers who were shot might now be viewed very differently", said Lyndall Hancock. "At the time, harsh military discipline was seen as necessary and the death penalty was part of that process. Our modern understanding of post-traumatic stress disorder has led to a new perception of their actions, which at the time were seen as deeply shameful and traitorous.
Our Community wanted to remember these men and to our knowledge, this will be the first such memorial to them in New Zealand. To us, this reflects our Community ideals of peace, social justice and restoration." She added that the project which had developed through her work with the Island's former keeper, Gordon Douglas, was independent of official commemorations.
In 2000, a Pardon for Soldiers of the Great War was enacted in Parliament, which formally pardoned these men. The Quarantine Island Kamau Taurua Community was formerly known as the St Martin Island Community and for more than 50 years has been involved in the voluntary care and restoration of this historic island, which is a Department of Conservation recreational reserve.
Aside from re-vegetation and restoration of historic buildings from the quarantine days of Otago's settlers, the community also hosts many school groups and others who appreciate the tranquillity and simplicity of the island. Part of their concern has also been with issues of social justice, and over the years, a quiet influence has been felt in the opportunity for people to learn and express ideas on topics such as domestic violence, poverty and inequality.
The Community has always seen itself as a beacon of hope and of peace. In recent years, alternative commemorations of Anzac Day have taken place, where the emphasis has been on voicing the often unheard stories of those who served – the women at home, personal connections to soldiers who returned as very different men, and the stories of those who chose not to fight because of their pacifist beliefs.
The Island Community has had a strong connection to the global peace movement and at one stage in the 1980s hosted German conscientious objectors who elected to do voluntary service on the island.

Quarantine Island Kamau Taurua Community (Incorporated)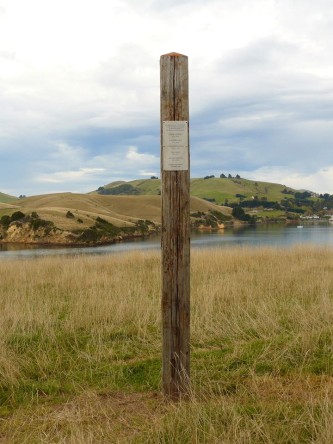 (Memorial – photo Jinty McTavish)
The five soldiers:
Frank Hughes Age 28 Cant Regt 25 Aug 1916 Desertion
John Sweeney Age 37 Otago Regt 2 Oct 1916 Desertion
John Braithwaite Age 31 Otago Regt 29 Oct 1916 Mutiny
John King Age 32 Cant Regt 19 Aug 1917 Desertion
Victor Spencer Age 23 Otago Regt 24 Feb 1918 Desertion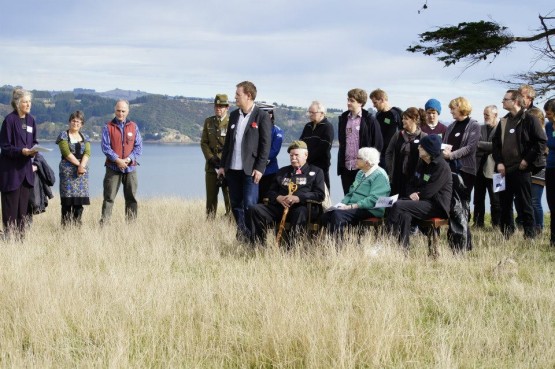 (Dedication ceremony April 26th 2015, photo Francine Vella)