There is usually an open day on the last Saturday of each month, however this can vary, For example there is no open day at the end of March – it's on 1st April!  Keep in touch via our Facebook page or email newsletter (free to subscribe). Note, if you have a gmail address the newsletter will go into your 'promotions' folder.
Facebook page and MailChimp Newsletters
[custom-facebook-feed]
Our next open day is Saturday 1st April. Come over to relax, explore, help with tree releasing and odd jobs. The boat will depart at 9.30am from  Careys Bay and can do a pick up on the Peninsula side by prior arrangement. Return boat at approx. 3.30pm on Sat. The boat is $15 return. Bookings essential (by Thurs. 30 March).  Let us know if you can help/need help to carpool.
If you're coming for the day, bring something to share for a simple potluck lunch, warm clothes and sturdy footwear.  Contact Kristen at secretary.  quarantineisland@gmail.com
Barndance Saturday  1st April 2017: SOLD OUT!!!  If you're lucky enough to have already booked your place, you should have received email confirmation and details about boats.
Dolphins on 28 Jan. 2017 open day: A wonderful open day on the Island recently, became even more magical when a pod of dolphins swam alongside the boat returning people to Portobello. Thanks to John McLachlan and Monarch Wildlife Cruises for giving us extra time to enjoy the dolphins! Here's a video (Thanks to Regan Mooney).
In Dec.2016 – Jan. 2017 we have a wonderful view from the Lodge of the Little Shags nesting. Here is a video of them in a strong Southerly. (Thanks Rauhina Scot-Fyfe).
---
Minutes and reports of the AGM 19th June 2016 (here)
---
Give a gift that gives twice...Try saying that fast! The recipient gets a beautiful gift voucher for an overnight stay on the island, or boat transport to this special place, and your purchase helps us to continue to look after the Island…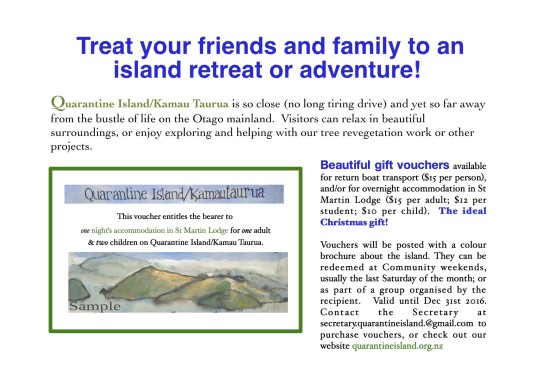 ---
Significant past events
April 2016 – WW1 heritage-themed open day, with Professor Barbara Brookes: 'Island of Shame' talk
October 2015  – Art and Sustainability Hui

The Community hosted psychologist and author, Niki Harre. Niki facilitated two workshops in town, in partnership with Otago Polytechnic, on the psychology of change. Niki was also our guest at an 'Art and Sustainability Hui 'on the Island. Special thanks to all those who helped with organising and running these events.
---
Sunday 20th September 2015 – 

Kotahitanga manaaki te kawa World Peace Day 2015



Quarantine Island/Kamau Taurua Community were delighted to have a stall at the Peace day event, organised by Peacing Together, a not for profit group that formed in March 2015, consisting of Artists, Event Creators, Community Facilitators and students from the National Centre for Peace and Conflict Studies. The event was a wonderful opportunity for everyone to come together celebrating our unity within diversity in Dunedin.
The Quarantine Island Kamau Taurua Community, in support of elder Lyndall Hancock, decided to commemorate five New Zealand soldiers, executed in Europe following court-martial. Two of the soldiers were from Canterbury and three from Otago regiments.  (more information…)
Heritage open day 27th Sept 2014
About eight fully booked boatloads (150 people!) attended a special heritage open day on Quarantine Island/Kamau Taurua recently. Visitors enjoyed exploring, picnicking, and learning a little about the history and ecology of the island… read more
Interview before it about the Island on the OARSome morning show 24 Sept 2014
Newsletters
Older newsletters
QI Island July 2010 Newsletter
Some articles about Island events
'Families adventure coming to an end' ODT 3/12/2013
'Not quite utopia but it beats city stress'   ODT 1/3/2014
1900-1950
'Six men drowned'  The Argus, Melbourne. 13/11/1928
'Question of Dual Control' 26/1/1918
'Quarantine Island' ODT 11/4/1917
'Willochra's men in quarantine' Evening Post 15/5/1917
'Quarantine Island' ODT 4/7/1874
1850-1899
'The Victory's passengers' ODT 9/9/1863 (over 150 years ago)