There is usually an open day on the last Saturday of each month, however this can vary, Keep in touch via our Facebook page or email newsletter (free to subscribe). Note, if you have a gmail address the newsletter will go into your 'promotions' folder.
Sat 25 -Sun. 26 Nov. Art retreat on Quarantine Island/Kamau Taurua
Talk about your process; how do you try to work sustainably? In terms of materials, staying solvent, and keeping the creative energy flowing!
Use resources from the island to make art (charcoal, clay ochre)
Relax; explore. An informal, loosely structured event facilitated by Becky Cameron.
Option 1: Boat from Back Beach, Port Chalmers at 10am Sat. 26th, returning 2pm Sunday.
Option 2: Boat from Back Beach, Port Chalmers at 6pm Fri. 25th, returning 2pm Sunday.
Cost: 2 night option $60 (students/unwaged $40)
1 night option $50 (students/unwaged $30)
Bring food for potluck dinners/lunches and your own breakfast. A simple dinner will be provided for those coming on Friday evening. Musical instruments also welcome!
Bookings to quarantineisland@gmail.com. Specify which option you prefer and provide a contact cell. Limited numbers. Details about facilities in the Lodge here.
---
Give a gift that gives twice...Try saying that fast! The recipient gets a beautiful gift voucher for an overnight stay on the island, or boat transport to this special place, and your purchase helps us to continue to look after the Island…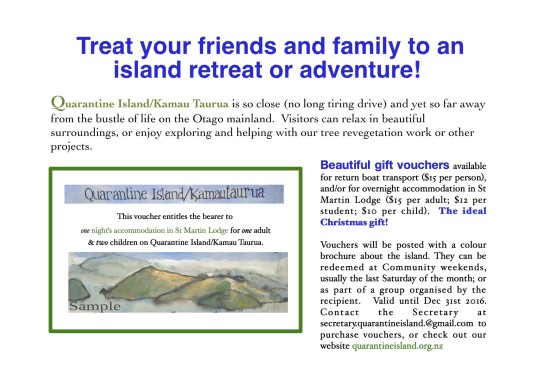 Older Newsletters
QI Island July 2010 Newsletter
Some articles about Island events
'Families adventure coming to an end' ODT 3/12/2013
'Not quite utopia but it beats city stress'   ODT 1/3/2014
1900-1950
'Six men drowned'  The Argus, Melbourne. 13/11/1928
'Question of Dual Control' 26/1/1918
'Quarantine Island' ODT 11/4/1917
'Willochra's men in quarantine' Evening Post 15/5/1917
'Quarantine Island' ODT 4/7/1874
1850-1899
'The Victory's passengers' ODT 9/9/1863 (over 150 years ago)