There is usually an open day on the last Saturday of each month, however this can vary, Keep in touch via our Facebook page or email newsletter (free to subscribe). Note, if you have a gmail address the newsletter will go into your 'promotions' folder.
We have several special events in July, including camps for children from 'Enviroschools'; volunteering days for students doing service for their Duke of Edinburgh Awards; a 'detective work' open day for our biodiversity monitoring project, and a special documentary movie night on Saturday 15th July. We also have a Teacher Only Day on July 10th and  2 weekday weeding working bees. Details below.
Weekday weeding. Our next working bees are on Thursday 29th June and Friday 7th July. Boat from Back Beach at 9.30, leaving the island at 2.30pm. Main job is controlling ivy and Darwins barberry. Thanks to a grant from Weedbusters, boat fare is covered, but let us know you're coming. (Postponed if raining).
Teacher Only Day on Monday July 10th: Teachers are invited to experience the Island first hand, and talk to the Keeper and QI/KT Community members who help with our education and biodiversity monitoring programmes. One complimentary ticket per school on the charter boat (operated by the Monarch).  Boat transfers from Back Beach, Port Chalmers at 10.00am, or Portobello pontoon at 10.30am, returning 2.30 and 3pm, respectively. Morning tea and a simple lunch provided. Bring warm clothes, and sturdy footwear. Bookings essential by Tuesday 4th July to quarantineisland@gmail.com . Limited numbers.
Open day on Saturday July 15th : explore, relax, have fun, help us with for our biodiversity monitoring or other projects. Come for the day or stay on for a special documentary movie night/overnight stay. Boat from Back Beach at 9.30am, returning 3.30pm, or stay overnight, returning approx. 2.30 on Sunday (or come over at 3.15 on Saturday if you are staying overnight).
Enviroschools camps:
Tues. 18 – Wed 19 July:  Primary school enviroschool groups
Thurs. 20 – Fri 21 July:  Secondary school enviroschool groups
This is a chance for students from different schools, who are interested in environmental issues, to spend time together, share what's happening at their school, or what they're planning. There will be time to relax and explore the Island, have fun, and help with conservation activities.
Boat transfers from Back Beach, Port Chalmers, at 10am, or Portobello Pontoon at 10.30am, returning approx. 2pm (Pt'bllo); 2.30 pm (BB) the following day. Thanks to Curious Minds grant funding, we can subsidise the cost to $20pp for accommodation and the boat. You can read more about the island, including details about  the accommodation here.
Bring a packed lunch for the first day and a little baking or fruit to share,.   Think about minimising plastic, especially single use packaging! We'll provide dinner, breakfast and lunch for the second day, so let us know if you have any food allergies or dietary requirements.
Teacher and parent helpers are welcome (and needed!) (Also $20pp). QI/KT Community members will help be there to welcome you and guide the activities.
Limited numbers, so book ASAP to quarantine island@gmail.com
*confirm which side of the Harbour you are coming from – Back Beach, Port Chalmers (10am) or Portobello pontoon (10.30am),
* tell us your age/Year at school (students only!) and provide a contact cell or home phone number
*tell us if you have any special dietary requirements or medical conditions
You will need to bring:  your own sleeping bag (or duvet), a sheet to cover your mattress, pillow, towel, pajamas and toiletries.
A change of clothes in case you get wet or muddy.
Warm clothes and jackets, sturdy boots or gumboots, and slippers or thick socks for the Lodge are important. Hottie or wheatbag optional!
There is a list of what the Lodge contains on the 'Visit – overnight stay' page of our website
Volunteering opportunities for students doing their Duke of Edinburgh Awards during the July school holidays.
Volunteering opportunities include:
* helping with conservation activities and general housekeeping during our enviroschools camps
* potting up seedlings
* releasing native tree seedlings
* hunting for the 'dirty dozen' (weed control)
* seedling monitoring
There are several options, depending if you want to come for a day or stay overnight:
* Sat. 15th: 9.30am – approx. 3.30pm or stay overnight (and come to our short doco movie night) until approx. 2.45 pm on Sunday 16th.
* Tues. 18th 10am (Back Beach, Pt Chalmers) or 10.30am (Portobello pontoon) – approx. 2.30pm or stay overnight until approx. 2.30pm on Wed.19th to help with our Enviroschools Camp (primary);
* or stay on until Thurs. morning or Friday afternoon to help with our Enviroschools Camp (secondary). Boat transfers Thurs 20th – 10am (Back Beach, Pt Chalmers) or 10.30am (Portobello pontoon). Leaving the Island on Fri. approx 2.30pm
If you haven't been to the Island before, check out the 'vist' page of our website and if you want to stay overnight, 'Visit – overnight stay'. $15pp for the boat , but no charge for accommodation in thanks for your service.
Interested? Email quarantineisland@gmail.com with your preferences and contact details by Fri. 7th July. If you want to volunteer on the island, but can't make these dates, come on one of our regular open days or contact the Keeper.
Saturday 29th July. Come over to relax, explore, help with tree releasing and odd jobs.
The boat departs at 9.30am from Back Beach by the Port Chalmers Yacht Club and can do a pick up on the Peninsula side by prior arrangement. Return boat at approx. 3.30pm. The Monarch charge $15 pp return, however, we can subsidise children ($7.50, no charge for preschoolers) or anyone in financial hardship, thanks to the Monarch and donations.
Bookings essential (by Thurs. 27th July). Contact Phil at quarantineisland @gmail.com or 478 0874. Let us know if you can help/need help to carpool.
Bring something to share for a simple potluck lunch, warm clothes and sturdy footwear. (Slippers or thick socks are good to keep your feet warm while you're inside the Lodge).
A donation for the island is always appreciated, as we rely on these to fund maintenance, improvements and our many projects.
———————————————————————
Dolphins on 28 Jan. 2017 open day: A wonderful open day on the Island recently, became even more magical when a pod of dolphins swam alongside the boat returning people to Portobello. Thanks to John McLachlan and Monarch Wildlife Cruises for giving us extra time to enjoy the dolphins! Here's a video (Thanks to Regan Mooney).
In Dec.2016 – Jan. 2017 we have a wonderful view from the Lodge of the Little Shags nesting. Here is a video of them in a strong Southerly. (Thanks Rauhina Scot-Fyfe).
---
Minutes and reports of the AGM 19th June 2016 (here)
---
Give a gift that gives twice...Try saying that fast! The recipient gets a beautiful gift voucher for an overnight stay on the island, or boat transport to this special place, and your purchase helps us to continue to look after the Island…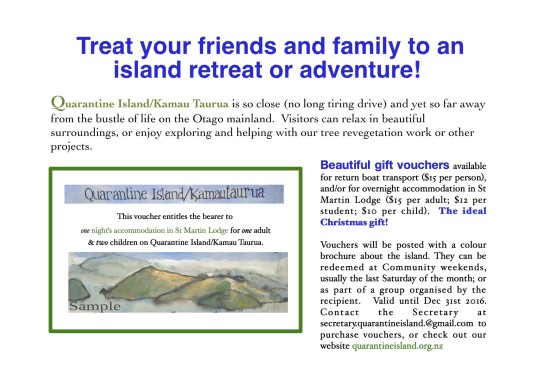 ---
Significant past events
April 2016 – WW1 heritage-themed open day, with Professor Barbara Brookes: 'Island of Shame' talk
October 2015  – Art and Sustainability Hui

The Community hosted psychologist and author, Niki Harre. Niki facilitated two workshops in town, in partnership with Otago Polytechnic, on the psychology of change. Niki was also our guest at an 'Art and Sustainability Hui 'on the Island. Special thanks to all those who helped with organising and running these events.
---
Sunday 20th September 2015 – 

Kotahitanga manaaki te kawa World Peace Day 2015



Quarantine Island/Kamau Taurua Community were delighted to have a stall at the Peace day event, organised by Peacing Together, a not for profit group that formed in March 2015, consisting of Artists, Event Creators, Community Facilitators and students from the National Centre for Peace and Conflict Studies. The event was a wonderful opportunity for everyone to come together celebrating our unity within diversity in Dunedin.
The Quarantine Island Kamau Taurua Community, in support of elder Lyndall Hancock, decided to commemorate five New Zealand soldiers, executed in Europe following court-martial. Two of the soldiers were from Canterbury and three from Otago regiments.  (more information…)
Heritage open day 27th Sept 2014
About eight fully booked boatloads (150 people!) attended a special heritage open day on Quarantine Island/Kamau Taurua recently. Visitors enjoyed exploring, picnicking, and learning a little about the history and ecology of the island… read more
Interview before it about the Island on the OARSome morning show 24 Sept 2014
Newsletters
Older newsletters
QI Island July 2010 Newsletter
Some articles about Island events
'Families adventure coming to an end' ODT 3/12/2013
'Not quite utopia but it beats city stress'   ODT 1/3/2014
1900-1950
'Six men drowned'  The Argus, Melbourne. 13/11/1928
'Question of Dual Control' 26/1/1918
'Quarantine Island' ODT 11/4/1917
'Willochra's men in quarantine' Evening Post 15/5/1917
'Quarantine Island' ODT 4/7/1874
1850-1899
'The Victory's passengers' ODT 9/9/1863 (over 150 years ago)