There is usually an open day on the last Saturday of each month, however this can vary. Keep in touch via our Facebook page or email newsletter (free to subscribe). Note, if you have a gmail address the newsletter will go into your 'promotions' folder.
Sat. 26 May and 30 June Community open day. Boat transfer at 10am from Back Beach – depart Island at 4pm. The charter boat picks up from Back Beach (BB) on Beach St. by the Port Chalmers Yacht Club. We can sometimes do a pick-up on the Portobello side by prior arrangement. Bookings to quarantineisland@gmail.com a couple of days beforehand. What to bring when you're visiting:
* $15pp for the boat (subsidies for primary school aged children ($10); no charge for preschoolers; those with financial hardship)
* warm clothes, sturdy footwear, swimming togs, sunscreen, hat
* some food to share for potluck meals or your own picnic, depending on the event. We try to minimise plastic waste because we see firsthand the problem with plastics in our ocean
* a donation for the Island if you can.

Over the next few months we're stepping up efforts to control invasive weeds and we'd love your help! Thanks to the Dunedin City Council,  boat fares for volunteers making a grunty contribution to this work during May, are covered. The Quarantine Island Kamau Taurua Community is also offering a complimentary overnight stay. Bookings or queries to chosted@doc.govt.nz. Limited numbers (15ppl). Initial dates are: Fri. eve. May 11th- Sat. 12th and May 25th- Sat. 26th. Enjoy a relaxing complimentary evening on the island, before getting stuck into weed control the following day. The boat will pick up from Back Beach by the Port Chalmers Yacht Club at 6.30pm on Friday, leaving the Island again at 4pm on Saturday. Details of what to bring on the 'overnight stay' page.  We'll provide Fairtrade tea and coffee. We have some tools and overalls, but bring secateurs, a pruning saw, or loppers if you have them. Let us know if you can help or need help to carpool to Back Beach.
Our AGM is on Sun. 17 June at the NEV Community Rooms (262 North Rd, NEV). Potluck lunch at 1pm. Followed by meeting at 2pm. This is a great opportunity to learn more about the QIKTC's vision and values, and support us. You might also want to find out how else you can get involved! No pressure though! 

Working holiday? There are lots of projects we're hoping to progress, from weed control, building fences, and stiles, releasing trees, to painting. Please let us know if you can help, particularly if you have relevant skills. We'll gladly offer free accommodation in the Lodge and cover boat fares for volunteers.  Contact the Keeper at quarantineisland@gmail.com.
Read an account of volunteering and staying on the island from recent volunteer, Carolyn Stallard, a young musician and teacher from New York. We loved having Carolyn on the Island!
---
Give a gift that gives twice...Try saying that fast! The recipient gets a beautiful gift voucher for an overnight stay on the island, or boat transport to this special place, and your purchase helps us to continue to look after the Island…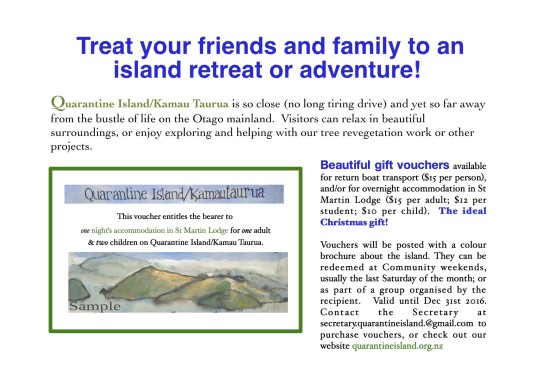 Older Newsletters
QI Island July 2010 Newsletter
Some articles about Island events
'Families adventure coming to an end' ODT 3/12/2013
'Not quite utopia but it beats city stress'   ODT 1/3/2014
1900-1950
'Six men drowned'  The Argus, Melbourne. 13/11/1928
'Question of Dual Control' 26/1/1918
'Quarantine Island' ODT 11/4/1917
'Willochra's men in quarantine' Evening Post 15/5/1917
'Quarantine Island' ODT 4/7/1874
1850-1899
'The Victory's passengers' ODT 9/9/1863 (over 150 years ago)