There is usually an open day on the last Saturday of each month, however this can vary. Keep in touch via our Facebook page or email newsletter (free to subscribe). Note, if you have a gmail address the newsletter will go into your 'promotions' folder.
Sat. 25 August Community open day. This Saturday we'll be doing some biodiversity monitoring, checking the tracking cards for footprints, and planting. There's always time to relax and explore too! Boat 10am from Back Beach, by the Pt Chalmers Yacht Club. Return 4pm, or stay overnight. Bring warm clothes, gumboots/sturdy footwear, and something to share for a potluck lunch. Boat fare subsidised to $10pp for those helping with biodiversity monitoring, thanks to our Curious Minds grant. Otherwise $15pp. Bookings to quarantineisland@gmail.com
Sat. 22nd September Community open day and Porttoport Launch Weekend activities. Visit the Island, bring a picnic. Join in biodiversity monitoring activities, if you wish. Hear about current projects and the island's fascinating history. Porttoport are offering 'ferry day passes' with pick-ups from both Portobello Pontoon and Back Beach throughout the day for $10 an adult and $5 a child. Stay overnight and enjoy the sunset and sunrise!
Labour Weekend: day and overnight stay options for people who'd like to have an island holiday, relaxing and doing a little biodiversity monitoring, weed control, releasing seedlings…
Sat. November 17th – join us to celebrate our 60th anniversary – We'd love to hear memories/see photos of your time on the Island! Bring a picnic or join us for a slap-up potluck lunch. Stay on (or join us in the evening) for a barndance!
Working holiday? There are lots of projects we're hoping to progress, from weed control, building fences, and stiles, releasing trees, to painting. Please let us know if you can help, particularly if you have relevant skills. We'll gladly offer free accommodation in the Lodge and cover boat fares for volunteers.  Contact the Keeper at quarantineisland@gmail.com.
Read an account of volunteering and staying on the island from recent volunteer, Carolyn Stallard, a young musician and teacher from New York. We loved having Carolyn on the Island!
---
Give a gift that gives twice...Try saying that fast! The recipient gets a beautiful gift voucher for an overnight stay on the island, or boat transport to this special place, and your purchase helps us to continue to look after the Island…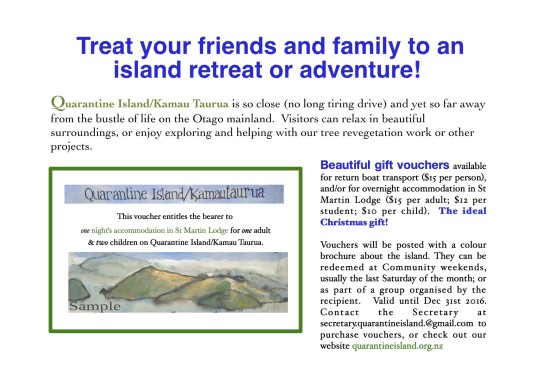 Older Newsletters
QI Island July 2010 Newsletter
Some articles about Island events
'Families adventure coming to an end' ODT 3/12/2013
'Not quite utopia but it beats city stress'   ODT 1/3/2014
1900-1950
'Six men drowned'  The Argus, Melbourne. 13/11/1928
'Question of Dual Control' 26/1/1918
'Quarantine Island' ODT 11/4/1917
'Willochra's men in quarantine' Evening Post 15/5/1917
'Quarantine Island' ODT 4/7/1874
1850-1899
'The Victory's passengers' ODT 9/9/1863 (over 150 years ago)