There is usually an open day on the last Saturday of each month, however this can vary, especially in December and January. Keep in touch via our Facebook page or email newsletter (free to subscribe). Note, if you have a gmail address the newsletter will go into your 'promotions' folder.
Open days & overnight stays in  January 2018:
Just have time for a short visit? 
Piggy back on the water taxi coming over from Back Beach on
Fri. 19 Jan. at 9.30am
 and departing from the Island at approx. 
12pm
 (or stay overnight).
Sat. 20 Jan. 10am at Back Beach – depart Island at 4pm or  stay overnight to 2pm on Sunday 21st. Alana Kelly, a University of Otago student will present highlights of her research on the archaeological sites on the Island and neighbouring Goat Island, undertaken as her Honours Dissertation. For those wanting to stay overnight, there is the option to participate in moth monitoring, part of our Curious Minds biodiversity monitoring project. There is an option to come over at 3.45 pm Saturday also, for those staying overnight.
Sat. 27 Jan. 10am – depart Island at 4pm or  stay overnight to 2pm on Sunday 28th. Rachael Baxter, a University of Otago MSc student will be investigating the Island's volcanic origins. Come to hear about her research, and participate in our regular end of the month open day, helping with projects and/or relaxing.
The charter boat picks up from Back Beach (BB) on Beach St. by the Port Chalmers Yacht Club, promptly, at the time given. We can sometimes do a pick-up on the Portobello side by prior arrangement.
Bookings for all trips to quarantineisland@gmail.com a couple of days beforehand.
What to bring when you're visiting:
* $15pp for the boat (subsidies for primary school aged children ($10); no charge for preschoolers; those with financial hardship)
* warm clothes, sturdy footwear, swimming togs, sunscreen, hat
* some food to share for potluck meals or your own picnic, depending on the event. We try to minimise plastic waste because we see firsthand the problem with plastics in our ocean
* a donation for the Island if you can.
* If you're staying overnight, check our website for additional suggestions for what to bring
Working holiday? There are lots of projects we're hoping to progress over the summer, from weed control, building fences, and stiles, releasing trees, to painting. Please let us know if you can help, particularly if you have relevant skills. We'll gladly offer free accommodation in the Lodge and cover boat fares for volunteers.  Contact the Keeper at quarantineisland@gmail.com
---
Give a gift that gives twice...Try saying that fast! The recipient gets a beautiful gift voucher for an overnight stay on the island, or boat transport to this special place, and your purchase helps us to continue to look after the Island…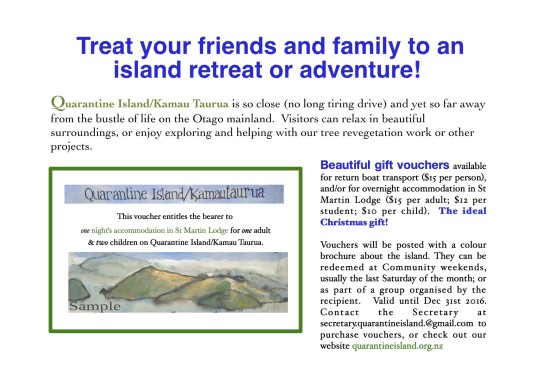 Older Newsletters
QI Island July 2010 Newsletter
Some articles about Island events
'Families adventure coming to an end' ODT 3/12/2013
'Not quite utopia but it beats city stress'   ODT 1/3/2014
1900-1950
'Six men drowned'  The Argus, Melbourne. 13/11/1928
'Question of Dual Control' 26/1/1918
'Quarantine Island' ODT 11/4/1917
'Willochra's men in quarantine' Evening Post 15/5/1917
'Quarantine Island' ODT 4/7/1874
1850-1899
'The Victory's passengers' ODT 9/9/1863 (over 150 years ago)