The problem: The Island has introduced rats (Norway) and mice. These affect biodiversity, eating seeds, insects, bird eggs and fledglings.
What we are doing:

 Using traps to reduce numbers of rats and mice  from Winter 2016. Keep numbers down.
2. Monitoring biodiversity over time to see the impact of trapping (ongoing from 2016).
The intended outcome: 
The Island is a haven for natural biodiversity in Otago Harbour!
Thanks to the DCC's Biodiversity Fund, Otago Peninsula Community Board and the Dunedin Amenities Society for funding the traps.
Biodiversity Monitoring on the Island

Thanks to the Otago Participatory Science Fund and scientists Dr Jillian Hetherington, Dr Barbara Anderson, James Tweed, Sam Haultain and Derek Onley, who are helping us explore ways to monitor biodiversity. Talk to us if you'd like to participate!
Results (most recent posts at top)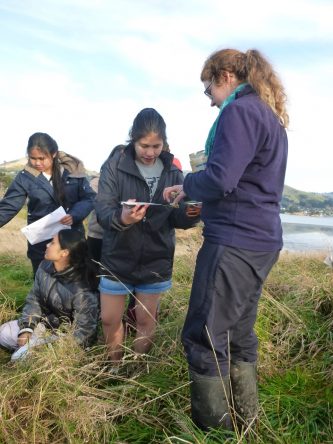 18/7/17 and 19/7/17  We placed inkcards in the tracking tunnels and checked them the following day. We were interested that we saw a lot more cards with mice prints on the warm cloudy night, compared to the previous cold clear one. We are starting to see a pattern as to which areas have the most mouse activity and will relocate some of our traps to increase their density in these areas. Although we didn't find any rat prints on the cards, they were seen on camera, both near Nicholls passage/the shag colony, and near the buildings.Tracking tunnels 2016-17 QI_KT – Sheet1(1)
4/6/17 Setting up for skink monitoring. Herpetologist Sam Hautain talked to us about skinks and explained the Lizard Monitoring Protocol for Kamau Taurua . We set up artificial cover objects (ACOs), made from onduline, a bitumen-coated roofing product, which we hope skinks will move into over the next few months. It's important we don't disturb the ACOs by lifting them, except when we are doing the monitoring, tempting though it may be!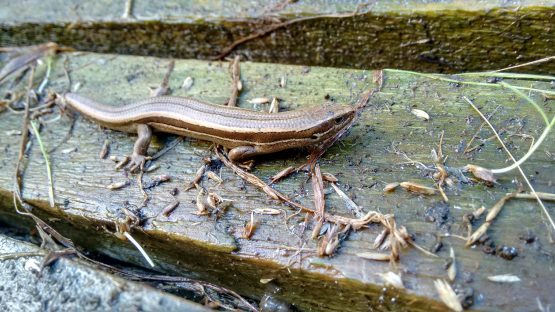 29/4/17  Moth Monitoring: Tamariki from Te Kura Kaupapa Māori o Ōtepoti and Dr Barbara Anderson led an overnight moth monitoring workshop on the Island. They showed us how to assemble 6 Heath Moth traps and where to place them : 2 in established bush, 2 in regenerating bush, and 2 in a paddock/open area (the control). During the evening they shared resources and information about moths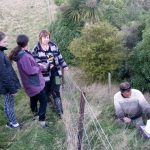 in te reo and English. (The tamariki are practising for presenting at a conference in Wellington next week, and in Toronto in July). Because of the forecast southerly change, a small group of adults brought the traps in at about midnight on Saturday night. It had been a relatively warm night, so the traps had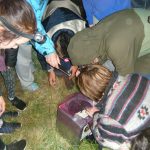 attracted a lot of moths by then. On Sunday morning,  we were very glad we had done this; there was a cold wind and driving rain. MSc student, James Tweed, and Dr Anderson carefully placed the live moths in individual viewing containers  so we could look at them and try to identify them. This is very challenging, even using the beautiful guides showing moths from our area, however, James was also able to help. After thi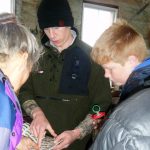 s, although we felt uncomfortable about killing other creatures, we decided to do this in this instance, to have a reference dataset of moths we will be able to use for future monitoring. Dr Anderson explained how other groups had also wrestled with this question, and the short lifecycle of the moths. We will do more moth monitoring in Spring, so contact us if you'd like to be involved!
14/4/2017.  We are continuing to plan how to monitor birds, moths, lizards and plants.
Notable birds are the rare and endangered Otago Shags. Historical counts of these birds (59 and 72 in 2000) and a bird count showing the diversity of species in 2012 will help with baseline data.
3/3/2017 Families from North East Valley assisted with monitoring using the tracking tunnels on the bush track. These are the results to date:  Tracking tunnels 2016-17 QI_KT – Sheet1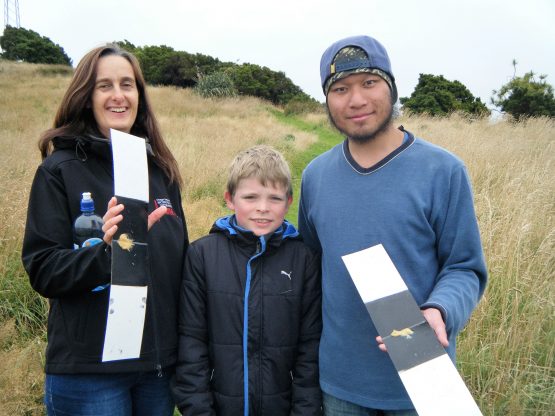 Can you identify which animal left these footprints?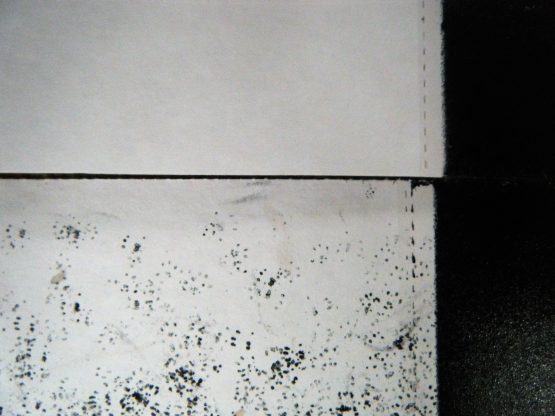 3/3/17  Images with InfraRed (IR) camera: Rat climbing a tree near historic buildings.
The camera takes three pictures, then a 30 second video. This camera (Little LTL Acorn 5310) triggered well even though the rat is quite a small animal, and was up a tree (we did not expect that so its at the edge of the image). The camera is very sensitive (good), and first fire has a lot of IR light, whiting out the middle of the image. However the camera compensates during the video (below). We will try putting it out  again with some of the IR lights masked so as to see more in the pictures. We were advised by a scientist at the University (Zoology, Otago) that they did that with this model of  cameras and small close animals.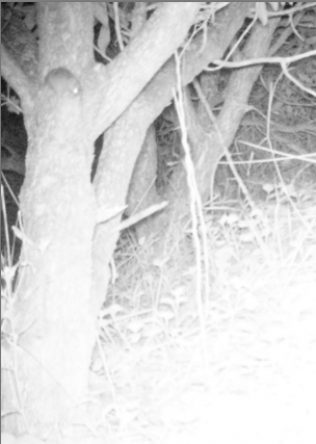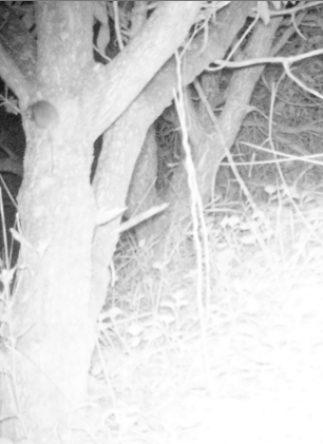 10/8/2016
Tracking tunnels have been placed around the island. Google Earth map created, links to photos and GPS. East and West done. North and South in progress.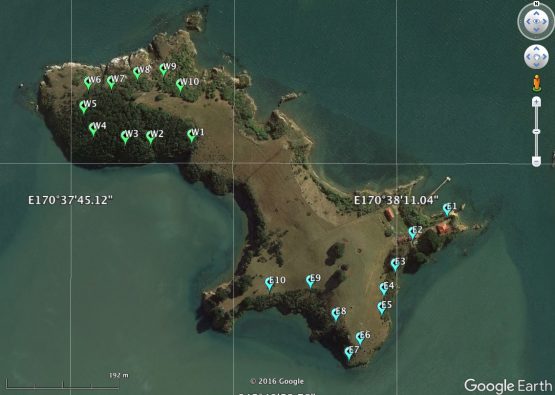 10/8/2016: 26 Goodnature A24 traps have all been placed.
Previous monitoring and the importance of good labelling: We found these cards showing rat and mice prints. They are labelled 'Nov.' Quarantine island. But no year is given! A good reminder to us about the importance of full and accurate labelling!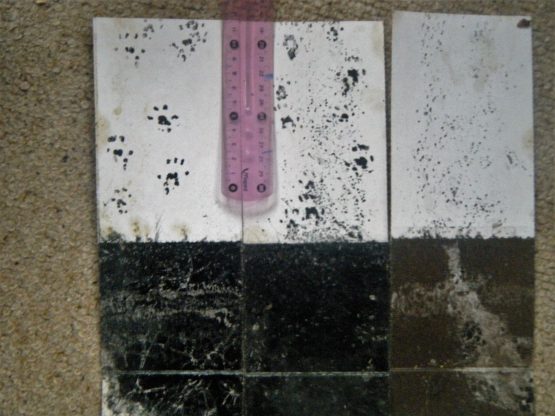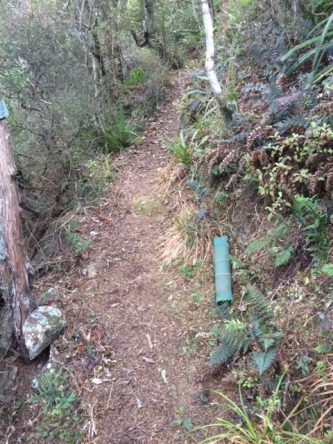 2/4/17 seedling monitoring. One of the changes we expect to see as we reduce predator numbers, is an increase in native tree seedlings. To test this hypothesis, ecologist Dr Jillian Hetherington, has helped us set up rat proof 'seedling cages' in a number of different locations. Adjacent comparison sites are pegged out. Initially, we are observing closely, and recording, how many different plants we can see in each cage and its control site.