"The best way to find yourself is to lose yourself in the service of others."
~ Mahatma Gandhi
Over the years, thousands of people have contributed their time, money and resources to looking after and enhancing the Island. We invite you to do this too! Some of the key projects are listed below. Please let us know if you have other expertise or ideas.
1958-2017 Ongoing Restoration of the native bush

The key project on the Island links our two strongest beliefs: that this tiny windswept rock with no natural water source can be restored to a self sustaining balance of bush and open grass, rich with native birds and wildlife; and that people too are restored by getting their hands in the dirt, learning new skills and working companionably together. 
We are gradually extending bush on the scarp areas round the Island, following well-tested procedures for all planting and maintenance work. This ensures plants survive and prosper in this often harsh environment. Volunteers, with the support of community members who know how to help the native seedlings survive, do all the planting and maintenance.  You can be a part of this project too!
We also invite you to contribute to our Tree Fund. Community member, Adrienne Dearnley recently restarted this fund (August 2016) with a $250 donation, as part of off-setting her travel carbon emissions and supporting young people. The fund allows the Community to purchase eco-sourced seedlings, or to subsidise boat transport to the island for young people volunteering, if this cost is a barrier. Our bank account details are on our website. If you'd like to contribute to this, please put 'tree fund' in the reference code and your name and email address if you'd like a receipt. You can also come over to plant our eco-sourced trees yourself in Autumn or Winter.
Removing weeds such as broom, gorse (including by shading out), Darwin's Barberry, Northern Hoheria, wilding pines, and garden or exotic varieties of native plants from the bush areas, is another important job we need to keep on top of. Talk to the Keeper about this, and please let us know if you have rope/climbing skills or your Growsafe Certificate! In 2016 and 2017 we received a grant from Weedbusters, which enables us to subsidise boat transport for volunteers helping significantly with this project. We have had some great help from Dunedin's Taskforce Green. We also have a grant from the DCC Biodiversity Fund to specifically target weeds in, and restore, two coastal coves, one on the south, the other north side of the Island. The Dunedin Branch of Forest and Bird are co-ordinating volunteers to help with boxthorn removal at Big Bay, (on the south side).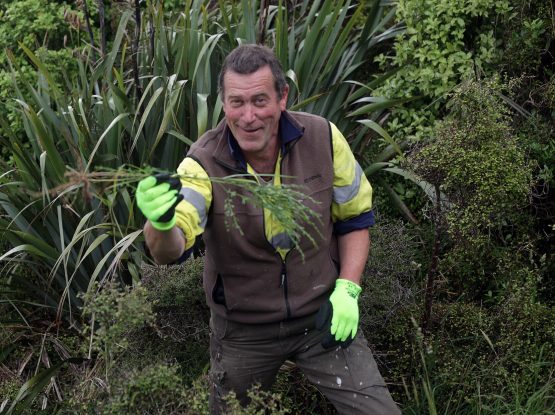 2016-2018  Biodiversity Monitoring
In Winter 2016 we began a predator control programme (rats and mice), thanks to funding from the DCC's Biodiversity Fund, Peninsula Community Board and Dunedin Amenities Society. Rats and mice are our only animal pests on the Island and we expect to see increases in biodiversity as we reduce their numbers.
We are delighted to have funding from the Otago Participatory Science Fund to help cover costs associated with the biodiversity monitoring, to enable lots of people to participate, and to purchase resources.  Talk to our Keeper about getting involved!
2016-2017 Development of new educational and Interpretive material – web, print and video

Sharing the island's stories is important to us. We have some resources already, especially for school groups. However,  if you have skills and time to help develop particular resources, please let us know.
For example, if you are interested in history, one project is to curate a small exhibition of historic artifacts.
2014- 2017 Latest phase in restoring the Interior of the Married Quarters (1873)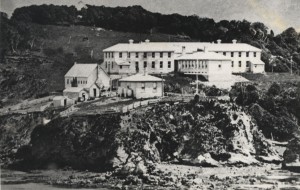 There has been a lot of work to save the building (see past projects), and now the focus is on  making it a usable space.  The subfloor and floor have been rebuilt, and an alternative bracing system installed, to replace steel cables which impeded movement. Work still to do includes replacing skirtings, window architraves, lining, and installing lighting. Unfortunately, we have fully expended the grant funding and donations for this project, so will need to do more fundraising before proceeding with these. Please contact us if you can help.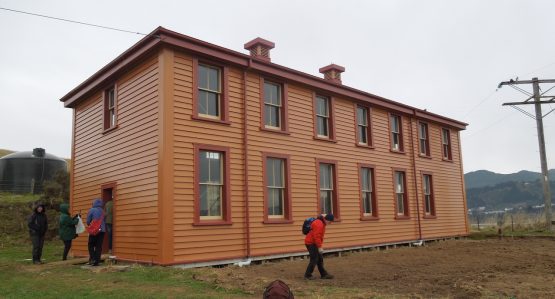 Once the work on the Married Quarters interior is complete, it can be used for groups (<100 people) for gatherings and events. The Community are looking forward to holding some dances in the MQ, as it did in the 1920s! It is also our intention to fit out the interior of the building with interpretative display panels showing off the island's history. The building meets 100% of earthquake strength.
How can you help?
By donating funds
By offering your labour / building expertise
By helping us to write grant applications and seek sponsorship
Please talk to the Keeper about this, or our secretary, Kristen Bracey: secretary.quarantineisland @ gmail.com
Survey of the Island and cemetery – University of Otago School of Surveying
In August 2016, Dr. Pascal Sirguey and Craig McDonnell conducted a survey of the Island using a combination of photos * captured by a Remotely Piloted Aircraft System (RPAS, a.k.a., drone or UAV) and ground survey.  This gives us up to date topographical data and aerial imagery of the island at unprecedented resolution, and will add to the understanding of the ecology and heritage features on the Island. A further ground survey of the graveyard, will take place in early December.
*The link takes a while to load and works best using Chrome
Improving the Lodge and Keeper's Cottage

There is ongoing work to maintain these buildings and make them more energy efficient and comfortable, while retaining their character! This is part of the long term Sustainability (eventual link to this) plan for the island.
In February 2013 the  Community council decided to install underfloor insulation in the Keeper's Cottage.  Work included repairing the rotting southern wall of the cottage, replacing a rotten window, installing some insulated false ceilings and fixing an ill-fitting door, some flashing and surround.  A big thank you to Kristen Bracey and Chris Brown and Peter Matheson for generous donations.  If you have skills you are willing to share to support this project please contact us.
A lot of work has taken place to improve the Lodge over the years, but as funds and energy allow, we will continue to make improvements. In December 2016, a Panasonic heatpump was installed in the Dining Room, thanks to a generous $3000 grant from Foodstuffs/Gardens New World, and a $600 discount from Panasonic.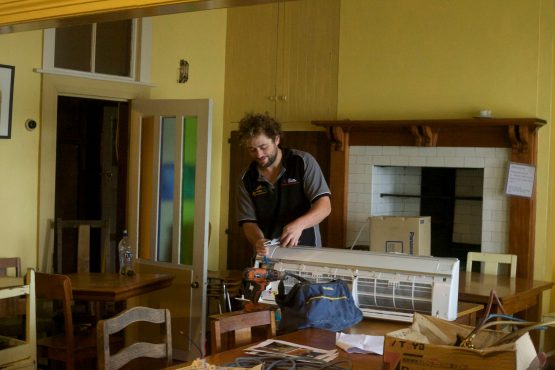 Tom, from Serviceman, helps with installing the heatpump.