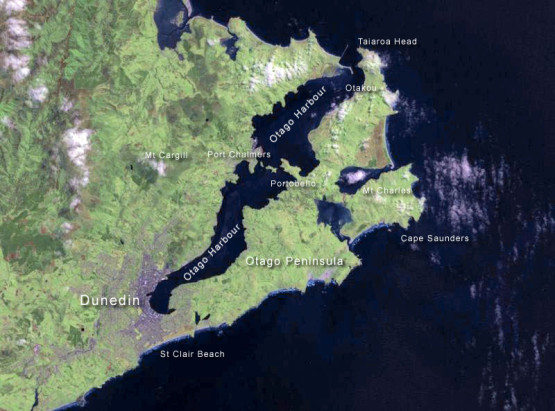 (under development, 10/2018)
Quarantine Island and Goat Island/Rakiriri are located in the middle of the long-extinct Dunedin Volcano. The Dunedin Volcano was active between 16 and 10 million years ago and at this time the highest point of the volcano was above Quarantine Island. Once eruptions ended, two rivers eroded the volcano, one flowing to the east would become the harbour mouth and one flowing to the west through what is now South Dunedin. These rivers followed the path of a recently discovered fault that runs the length of the harbour. The islands now mark the approximate halfway point up Otago Harbour (see map).
The islands have had many names over the course of time.  Local Maori, the tangata whenua (people of the land) Ngai Tahu (Kai Tahu), know Quarantine Island as Kamau Taurua.  This is an ancestral name. Just as  Scottish and English settlers brought names from 'home' with them, like 'Dunedin', Kai Tahu settlers gave new places names from their ancestral homeland. Kamau Taurua is also the name of an ancestral canoe and has a literal meaning: 'a place where nets are set.'
Other names of Quarantine Island include; Midway/Halfway Islands, Rabbit Island and St Martin Island.  Early in the Community's purchase of the island's lease they tried to change the name to St Martin Island after themselves.  The thinking was that 'Quarantine' had sad memories and negative connotations.  However, St Martin Island was never officially registered as the new name and the older name of Quarantine Island stayed.  The significant history of the island is embraced and acknowledged in this name and it is given equal significance with its Maori counterpart Kamau Taurua.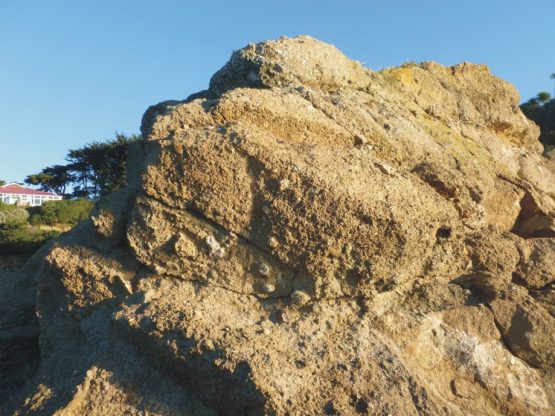 Most of the island is made of scoria which has been erupted by the Dunedin Volcano.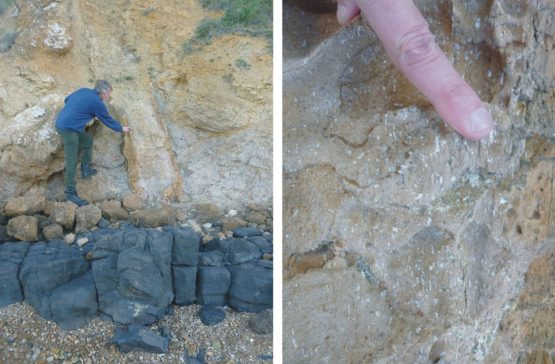 Left: Two magma intrusions (dykes), the dark dyke cuts the lighter coloured dyke and is therefore younger.  Right: Enlargement of the vertical light dyke showing white feldspar crystals. These feldspars crystalised as the magma cooled and have been aligned by magma flow.

These dykes are either stronger or weaker than the scoria that they intrude. As waves erode the island these differences form headlands and guts.
Dunedin Volcano fact sheet from GNS:
VolcanoFactSheets Dunedin or from www.gns.cri.nz/content/download/…/VolcanoFactSheets%20Dunedin.pdf
Thanks to the University of Otago's School of Surveying for their recent presentation (2016) about their survey of the Island by drone and the short video/3-D model below.