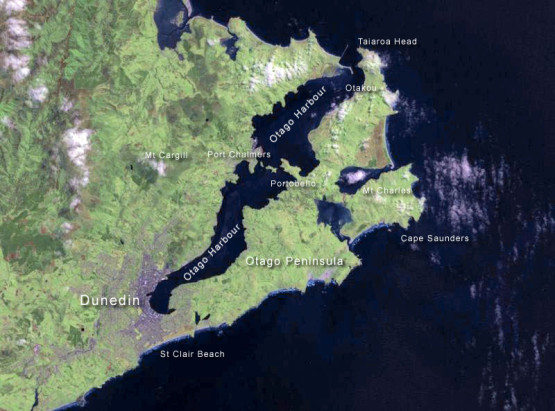 (under development, 10/2017)
Geographically the island and it's neighbour Goat Island/Rakiriri indicate the centre of the volcano that formed the shape of Otago Harbour 4 million years ago.  It centre was probably 1000 m tall and above where the island is today. If you imagine a ridge line extending from Port Chalmers across both islands and finishing on the Peninsula.  The islands now mark the approximate half way point up Otago Harbour (see map).
The islands have had many names over the course of time.  Local Maori, the tangata whenua (people of the land) Ngai Tahu (Kai Tahu), know Quarantine Island as Kamau Taurua.  This is an ancestral name, the name of an ancestral canoe and also 'a place where nets are set.'
Other names of Quarantine Island include; Midway/Halfway Islands, Rabbit Island and St Martin Island.  Early in the community's purchase of the island's lease they tried to change the name to St Martin Island after themselves.  The thinking was that 'Quarantine' had sad memories and negative connotations.  However, St Martin Island was never officially registered as the new name and the older name of Quarantine Island stayed.  The significant history of the island is embraced and acknowledged in this name and it is given equal significance with its Maori counterpart Kamau Taurua.
Dunedin Volcano fact sheet from GNS:
VolcanoFactSheets Dunedin or from www.gns.cri.nz/content/download/…/VolcanoFactSheets%20Dunedin.pdf
Thanks to the University of Otago's School of Surveying for their recent presentation (2016) about their survey of the Island by drone and the short video/3-D model below.