Bringing your own boat
Please be considerate about where you moor as other boats may want to tie up too. Do not tie up on the Keeper's boat line or on the wrecks.
Charter boats
Our Keeper can help you connect with a charter boat appropriate for the size of your group.
Groups 13+  Monarch Wildlife Cruises and Tours   operate the Vivienne J  which can take approx. 18 people at a time. The boat usually leaves from the jetty at Back Beach, Port Chalmers (see map below). Pickups are also possible at Portobello township (best at higher tides). The Monarch charge  $7.50 per person one-way, $15 return, $100 minimum each way for the group). The trip itself takes about 10 minutes, but allow at least another 10 for loading/unloading. if the Vivienne J is unavailable, the Ally J is used. This can take approx. 12 people at a time.
For smaller groups of 12 and under, there is another option, with the same $15 p.p. rate, but a minimum charge of $40 each way.
Additional option of a wildlife cruise to Taiaroa Heads: The Monarch  offer a discount for groups who would like a tour to the Heads during their visit to the Island.
$20pp duration 1 ½ hrs to 2 hrs (dependant on tides and sea conditions). Minimum 10 people. If the group is larger than 18 (maximum on VJ) then the groups can split into two with one remaining on the island while the other group is on the cruise.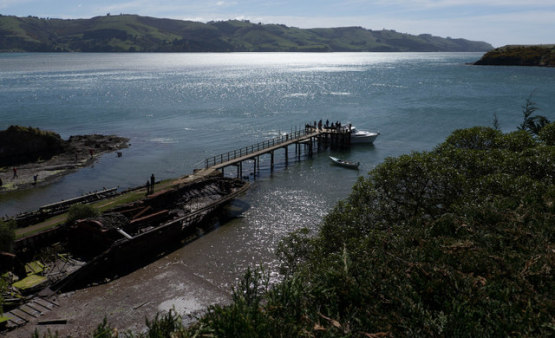 Via Port Chalmers

View Larger Map (use +/- controls to zoom in and out)
Via Portobello township.
Pickups are possible at the floating jetty. Park there or by the hall. The left turn is easy coming from Dunedin. Note: The Marine Studies jetty is closed due to renovations (7/2016 on).
If heading in the direction of Dunedin. Be careful turning right into the Jetty area. Best to turn after the 45 sign where visibility is best.