General Information:
There is usually an open day on the last Saturday of each month, however this can vary. Keep in touch via our Facebook page or email newsletter. (Note, if you have a gmail address, the newsletter will go into your 'promotions' folder.)
The usual pick up for the boat is Back Beach, by the Port Chalmers Yacht Club, however a pick up is also available on the Portobello Wharf (Pontoon Jetty)  by prior arrangement. Occasionally there is a Carey's Bay pick-up (e.g. for events).
We can usually help with car pooling, if you give us some notice of where you live and contact details. Don't forget to let us know you're coming at least a day beforehand so we can let you know if there's any change of plans. The usual boat charge is $15-20 pp, but sometimes we are able to subsidise special volunteering themed events.
Island Adventures Saturday 19 January
This Saturday we'll be doing some weed control, releasing seedlings, and checking the tracking cards for footprints. There's always time to relax and explore too! Boat leaves promptly at 9.30am from Back Beach, Pt Chalmers; Portobello pick-ups by arrangement. $15 per adult, $10 per child return, subsidised to half price if you are helping with weed control thanks to our Weedbusters grant. Return leaves the Island at 3.30pm, or stay overnight. Bring something simple to share for a potluck lunch, and if you are staying overnight, check out our website for what else you'll need.
Sunday 20th January – Want to be more involved in leading groups/supervising other volunteers on the Island? This is a 'professional development day' for core QIKTC volunteers covering predator control and monitoring, skink monitoring (including the location of the ACOs), and other aspects of our Curious Minds project, H & S, releasing etc. Note, this follows our open day on 19th Jan so you are welcome to stay overnight on the Saturday. Register your interest and any time constraints ASAP so we can confirm the boat.
Working holiday?
There are lots of projects we're hoping to progress, from weed control, building fences, and stiles, releasing trees, to painting. Please let us know if you can help, particularly if you have relevant skills. We'll gladly offer free accommodation in the Lodge and cover boat fares for volunteers.  Contact the Keeper at quarantineisland@gmail.com.
Read an account of volunteering and staying on the island from recent volunteer, Carolyn Stallard, a young musician and teacher from New York. We loved having Carolyn on the Island!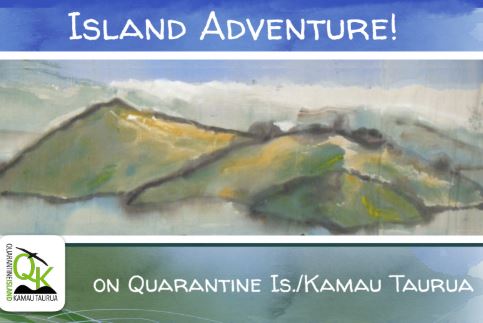 ---
Give a gift that gives twice...Try saying that fast! The recipient gets a beautiful gift voucher for an overnight stay on the island, or boat transport to this special place, and your purchase helps us to continue to look after the Island…
Contact quarantineisland@gmail.com to order.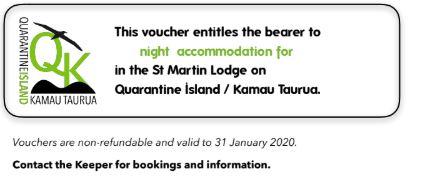 Older Newsletters
QI Island July 2010 Newsletter
Some articles about Island events
'Families adventure coming to an end' ODT 3/12/2013
'Not quite utopia but it beats city stress'   ODT 1/3/2014
1900-1950
'Six men drowned'  The Argus, Melbourne. 13/11/1928
'Question of Dual Control' 26/1/1918
'Quarantine Island' ODT 11/4/1917
'Willochra's men in quarantine' Evening Post 15/5/1917
'Quarantine Island' ODT 4/7/1874
1850-1899
'The Victory's passengers' ODT 9/9/1863 (over 150 years ago)