Our Spirituality
Nature, and people have always been very important to us. Openness to others, social justice and a closeness to the earth underpin the spirituality of the community. Incorporated in 1958 as the 'St Martin Island Community Inc' as a Christian Community with the motto "Work and Worship", we have expanded to accept and embrace many beliefs and cultures and welcome the stimulation and growth they bring to the community. There is much warmth, humour, sharing and support in the times we come together, whether for meals, meetings, community work times or spiritual retreats. Our love of the Island and our desire to live in a peaceful Community is expressed in our belief that our work together is love and mindfulness in action.
The Island Community was initially named in honour of St Martin of Tours, a colourful 4th century French bishop, who taught by example that work and worship belong together and who was known for his piety, kindness, his emphasis on work and worship, and his outreach in establishing new communities.
The name used for over 50 years 'St Martin' lives on in the renamed 'St Martin Lodge'. The community was renamed 'Quarantine Island/Kamau Taurua Community (Incorporated)' in 2015.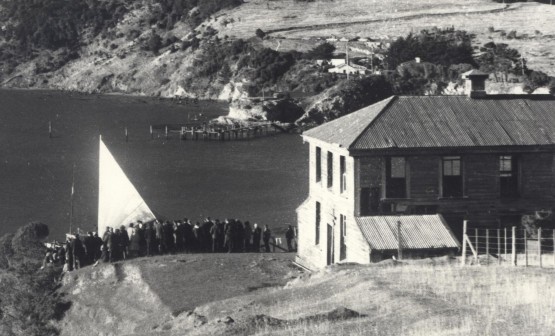 Chapel Dedication 1970's