Walk with me around the Island to meet its animals and birds.
We'll walk up the track from the jetty to be greeted by the heartiest of island birds, three cheerful white hens. They've been down on the beach scratching up sandhoppers in the seaweed, but obviously think you're more interesting. Mind your sandwich!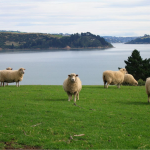 If we pause to go to the loo at the lodge, we can also peek out the porch window at a wonderful sight. Kawau paka, the Little Shags pairs are visible precariously nesting in trees directly below. The largest Otago population of these nests each year on the SE cliffs, protected from disturbance by humans and dogs alike. You couldn't get a more comfortable viewing hide.
As we pass the Cottage, look left – the herons and majestic spoonbills are perching in the macrocarpas! Now, we wander up through the paddock, past the paradise ducks, and follow the track to the top of the Island where sky surrounds us, gulls soar, and pest magpies hunt small birds and skinks. This is the windswept farm of the Island, with our flock of sheep who know all the comfy hideaways.
Turn full circle with me; we're in the centre of the harbour, on one side we look to the sand flats where tōrea, the oyster catchers are feeding, and in the other direction the long sweep out to Aramoana and the sea. Sometimes there are sealions feeding out there; very occasionally a whale or dolphins.
We can run if you want down the the grassy hillside, or rolypoly, or just walk, down to the fence line and stile. This is where the Island transforms, from farm to wilderness, where we see the real magic of regeneration; a baby forest in the toughest environment, hundreds of young trees, planted, tended and watered, all by hand. You were probably wondering why we're carrying shears; yet, stopping to cut away the grass around some of the tree, we take in the quiet… hear the lark singing far above us … smell the salt and earth.. and relax.
Let's carry on along the bush track that winds around the end of the island. There are small clearings where we pause above the channel between the island, and enjoy the songs of the small bush birds such as korimako the bellbird. You may notice here and there the tracking tunnels, placed to monitor the Norway rat population. Oddly enough these pests serve a purpose, for their presence in small numbers seems to be keeping away mice and the far more dangerous Ship rats.
Back out of the bush and nearly home for a cuppa, we wander round the cliff tops far above the gulls and shags. As dusk settles in, we find ourselves sitting outside the lodge after dinner, and we may hear the 'wheep' of the little German owls who live and nest in the bush around the bay.
 Life is good.