An Introduction to our Island Values
The Island is a public 'Recreation Reserve', looked after by the QI/KT Community (Inc) and the Department Of Conservation (DOC). The Community leases part of the island from DOC, and owns and cares for the historic buildings, and animals. Most of the island is jointly managed with DOC, with major projects being reforestation.
The Community has a deep commitment to the care and sustainable management of the Island. We are achieving this by:
Conserving and enhancing the indigenous forest and wildlife, and using the Island's resources wisely

Honouring the history of the Island, both Maori and European

Welcoming groups and individuals to experience this place, its
magic and sense of sanctuary.
Joining The Community
Please feel free to visit the Island on Community weekends or open days, to get to know us. If you have a passion for social justice, ecology and the environment, the building of sustainable communities, finding sanctuary in nature, or finding peace within, you will find kindred souls within the Community.
QIKT Subscription July 2015 one page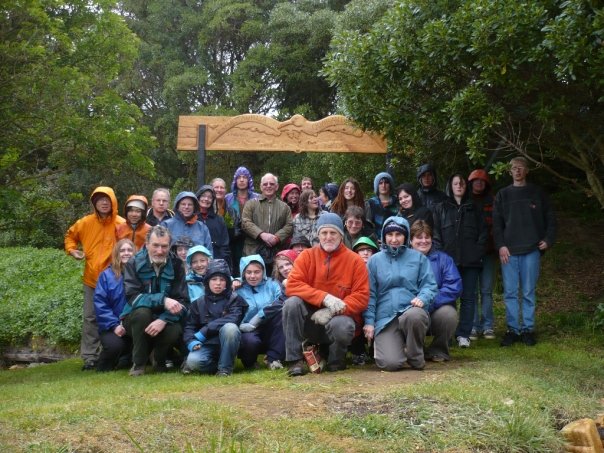 Community report for AGM August 2015
"To create and maintain a community of people connected with the Island who will work together to maintain and improve the land and its shores in a simple, sustainable and ecologically just manner and provide a safe place for people to revitalise their spirits in connection with land, sea and people."  (Rules of Quarantine Island/Kamau Taurua Community (Inc.), p.2)
The 'Island Community'  all live in different parts of Dunedin, or even further away (Auckland, Wellington, Christchurch, Otatara…), with busy lives, juggling other commitments, wearing multiple 'hats'. Some make it to the Island most months, others once or twice year; some not at all these days. It's not easy to define exactly who the 'Quarantine Island Community' is. However, we know many people have experienced something special about the Island and their time there. We are delighted people continue to be drawn to the Island, to help with projects, to talk, to dream, to have fun, and to consider serious issues, such as climate change. Also to those who can't make it to the Island physically, but continue to have a special place in their heart for the Island and others in the Community, and keep in touch, or take an interest in what is going on, from afar.
Over this last year, many people have contributed to caring for the Island – watering native seedlings in our very dry summer; bringing on materials and taking off rubbish; helping with maintenance and at special open days. The young people who visit the Island energise us, with their willingness to pitch in, delight in swimming (whatever the temperature!), kayaking, and curiosity in nature. We really appreciated young people from Aquinas College, Knox College, the Otago University Malaysian Student Association, Northeast Valley Youth group, Moana House residents, and other friends and volunteers who did some very heavy, hot work for 'us'. The Dunedin Youth Fund enabled us to subsidise transport for Buddies from Presbyterian Support, and some of our other young volunteers. We loved the simplicity of picnic days and pot luck lunches.
Off the Island, it was fun to join in the Peninsula Day and talk to people about the Island, hearing reminiscences and encouraging people to visit. We appreciate the people who watch out for the Island.  The spotting and reporting of the hedge fire by the Lodge that could have caused disaster, and the quick action of the Coastguard and firefighters, is a prime example of this.
We use our facebook page, website (http://quarantineisland.org.nz/) and email newsletters to spread the word about Island activities and help people feel connected, even if they can't often get to the Island. I would like to acknowledge Joe Hunter, our wonderful Chair, who does so much for the Island Community, on and off the Island, despite having a more than full-time demanding job and heavy responsibilities in her Union work.
We have been invited to be part of Toitu's upcoming exhibition on 'harbour communities' and consider how geography and landscapes can influence and attract different people to form a distinct 'community'. A very interesting idea to reflect on and capture different voices. We are also participating in 'Peacing Together', a celebration of peace through multicultural diversity, at the Stadium on September 20th. On the Island, an "Art and Sustainability Hui' is being planned for October. We recognise people have busy lives, but may really enjoy to be involved with particular projects and events. We welcome your suggestions and offers!
Kristen AGM 2015
The Island Song
Wind rocks this little land
Anchored between sky and sea
Paused in the drift of time
Cradle of possibility
—
Steadfast is this little land
anchored between sky and sea
Paused in the drift of time
home to community
(link to full Island song)