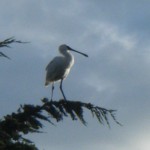 Also see current projects for ecology projects e.g. reforestation and predator reduction.
Quarantine Island is home to one of the rarest shags in the world, the 'Otago Shag'. This was only identified in 2016 with a nesting population of about 70 birds (of less than 2500 in the World/Otago) on a rocky face above Otago Harbour.
Notes from an Island Ecology talk from Jim Fyfe
Our steadfast island is made of volcanic rock and is in the heart of Otago Harbour – a wise place for an ecologically friendly dwelling when sand is shifting around us. In this short talk I hope to erect four corner posts and start to weave a roof that will help protect the integrity of the Island's Ecology.
First corner post: An important remnant of native bush
All who have walked around the island will have been drawn to the track through the bush remnant with its diversity of small trees and shrubs, suited to the windswept coastal environment and yet so rare now. This bush attracts the birds – bellbirds, tui, kererū, fantails. New planting strengthens and protects the integrity of this remnant.
Second post: An unmodified harbour shoreline
The edges of Otago Harbour have roads, railways and Port facilities. Areas have been reclaimed for industry and sports fields, but the shore of our Island is largely intact. Marine wildlife that rest on land are unimpeded in their use of the island, and this is demonstrated by the large proportion of the Harbour's little shags that nest here.
Some damage has been caused by the erection of pylons for high tensile power-lines, intercepting seabirds who use the Island's updrafts and snapping fragile wings.
Third post: A rich marine environment
An interpretation of the Māori name 'Kamau Taurua' is seine net. The island restricts the water flow in and out of the harbour and phytoplankton or small planktonic animals are herded past the island in strong currents. A diversity of marine species – sponges, barnacles, sea tulips, bryozoans, hydroids, brachiopods, molluscs – flourish by filtering this food from the water. Last week a dwarf minke whale was seen feeding here.
Fourth post: The island factor
Things can be different on an island. Isolation can protect a fragile species, or allow rapid adaptation in small populations. Islands can be a sanctuary from predators.
Now we have the four corner posts:
Important remnant of native bush
An unmodified harbour shoreline
A rich marine environment
The island factor
To provide a roof for our ecological dwelling the community needs to weave its stories between these posts.
Forest restoration is already a well established activity on the island
The community is exploring the opportunities to reduce its carbon footprint and present a model for sustainable living.
The experience that the island offers to schools and youth groups, allowing escape from the overwhelming world-scale issues, and a chance to contribute locally to improvements in our island ecology is unforgettable.
Our aim is to protect this island at the heart of Otago harbour as "a cradle of possibility".
Jim Fyfe